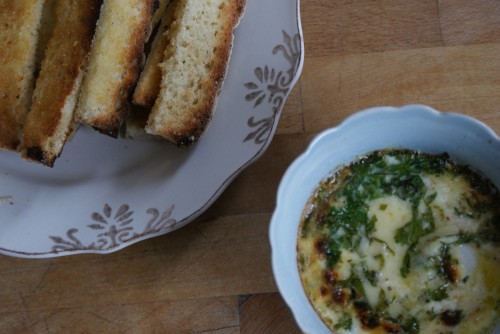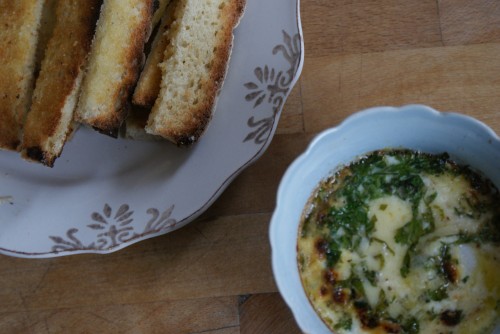 I love, love, love eggs and the weekends are quickly becoming all about my eggy treat in the morning. Paired with buttery potato bread toast and a special coffee (made in the stove top espresso maker with Monmouth Coffee), isn't this what weekends are made for?
Generally, I always defer to scrambled eggs, but recently we've been experimenting with a new and delicious variation – baked eggs. In its simplest form, an egg cracked into a ramekin (or heat proof cup in our case) topped with a generous spoonful of cream, some seasoning and final sprinkling of grated cheese and then baked until the white is firm and the yolk golden and liquid.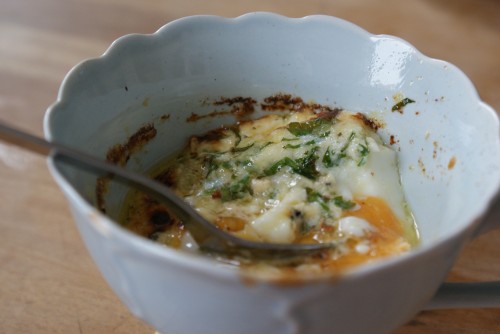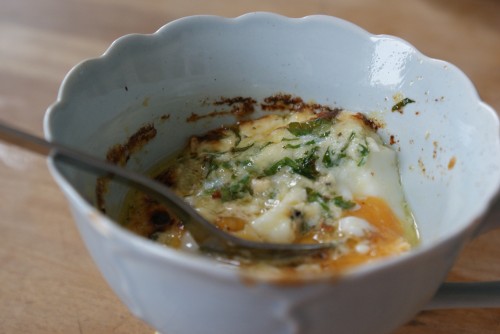 Haha, yes it does seem so simple, but I am yet to crack the perfect timing, first you take it out and the white is still liquid so you pop it back in and things look promising… but before you know it, the yolk is hard, given the propensity of eggs to firm up a lot once removed from the heat especially in its snug little ramekin.
Hugh inspired me a few weeks ago with this tarted up recipe using garlic and thyme, so we gave it a go and not too much of a disaster, we managed to retain the runny centre , now I see that as with boiled eggs, you have to be very careful with timing, waiting patiently by the oven until they look set, but with a wobble in the centre.
See Hugh's recipe here.

Tags: eggs
YOU MIGHT ALSO LIKE...