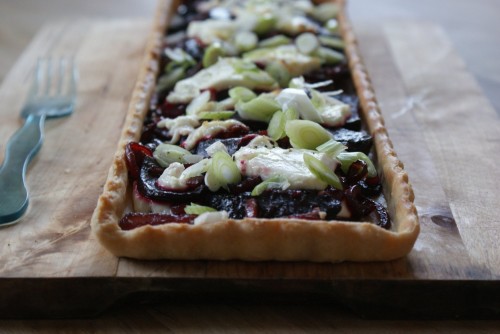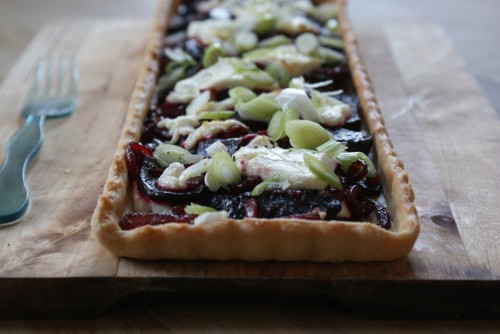 Inspired by Hugh's Saturday column – I made this delicous beetroot and goat's cheese tart. Obviously I tweaked it a little to suit what I had (no wine or thyme unfortunately) but the essential idea was the same and boy, is it a good one. Buttery pastry, sweet roasted beetroot and sharp goats cheese – a trio made in heaven. All you need is a simple salad on the side or even better a potato salad slick with mayonnaise.
This is definitely a good way to eat beetroot as although I love it, I know it's not always the easiest thing to cook with, least of because of the stained fingers. This soup is another favourite, as is eating it raw in salads – it has a carrot-like sweetness and is wonderful in a grated carrot, apple and beetroot salad sprinkled with pine nuts.

This recipe makes enough to fill a standard 24cm tart tin. Hugh suggests using a loose-bottomed 20cm sandwcih tin for a deeper tart. As you can see, I used my new favourite rectangular tin
and so made less of the filling.
Ingredients
1 tart case, baked blind
25g unsalted butter
3 red onions, halved and finely sliced
2 tbsp balsamic vinegar
500g small beetroot, boiled, peeled and sliced.
1 small bunch spring onions, finely sliced
280g goat's cheese log
Preheat the oven to 200C.

Melt the butter in a pan and gently fry the onions until soft.

Add the beetroot slices, balsamic vinegar and a generous pinch of salt and pepper. Cook until

almost all the liquid is absorbed and the mix is glossy.
Cut the cheese into 1cm slices and lay a few on the base of the tart.
Tip in the beetroot mix and put the rest of the cheese on top. Bake for 15-20 minutes, until the cheese is bubbling and golden.
Sprinkle the spring onions on top to serve.
YOU MIGHT ALSO LIKE...