If you'd like some of these labels, just drop me a line. Equally, if you'd like me to make (and label) your wedding favours, get in touch!
Not content with making the wedding cake, I also helped my friend make her wedding favours. I kind of had to as it was my crazy idea in the first place. I spotted some wedding favours with a 'spread the love' label and that was it.
We decided to make Seville orange marmalade and because we didn't get our act together and make enough in time, lime marmalade. While it felt like a lot of work at the time, we actually made them all in two sessions and then another couple of hours to label them. The fabulous thing is that you can make them in advance i.e. in the early stages of wedding preparation when you're full of energy. We were both so pleased with how cute they looked that everyone could have left theirs behind and we wouldn't have cared (thankfully everybody loved them).
We got our jam jars here.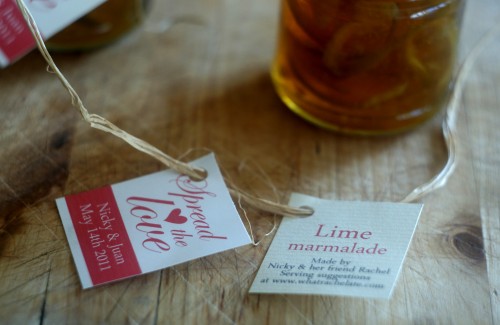 Tags: marmalade
YOU MIGHT ALSO LIKE...