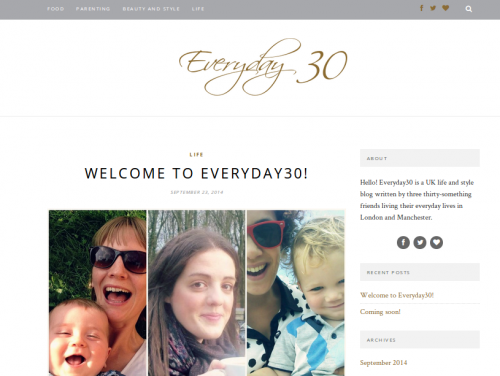 I'm really excited to the tell you about my new blog Everyday 30! I know it's been quiet on this blog for a little while now. I could blame it on the baby, but I think the real reason is that I felt a bit uninspired (I touched on it here). I realised that I wanted to write about a bit more than food – beauty, parenting, whatever I feel like!
So that's what the new blog will be – a life and style blog by three thirty-something friends living their everyday lives. I asked my friends Nicky and Rose to get involved, because I love their writing and I have to say that setting something like this us with other people is so much better. Not only is it more fun, but we've really been driving each other on to make the blog the best it can be.
I'd really love to see you over on the new site (there'll still be lots of food in amongst everything else) and I hope you enjoy it as much as we're enjoying writing it! Don't forget to subscribe to us on Bloglovin' too.