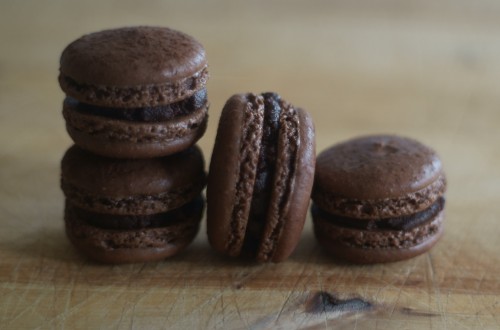 I wonder if any of you out there are as obsessed with macaroons as I am? Something seems to happen when you make your first batch of macaroons and the continual search for perfection begins – that perfectly smooth top, neat little feet and squidgy centre. I've spent hours poring over beautiful pictures (some of the best are here) and I could hold down a two hour conversation on them if you're so inclined.
I make macaroons for nearly all of my catering jobs and someone nearly always asks me if macaroons are difficult to make. Er…yes! I must have made hundreds of macaroons by now. I've thrown away more batches than I care to admit and had so many tantrums that my boyfriend scarpers whenever I make them.
So what's the point then? Well… I'm here to share what I've learnt. Below is my chocolate macaroon recipe – an amalgamation of the many recipes I've tried with lots of tips and tricks I've learnt along the way. Unfortunately, there is no quick fix for the perfect macaroon. In my experience there are a lot of steps and they all need to be done correctly. Make sure you have plenty of time and no distractions and read the recipe through before you start cooking.
Fancy some more reading?
Macaroon king, Edd Kimber's, recipe
Lots of really, really useful posts on macaroons with plenty of troubleshooting advice
Tartelette's brilliant guide to making macaroons
More »