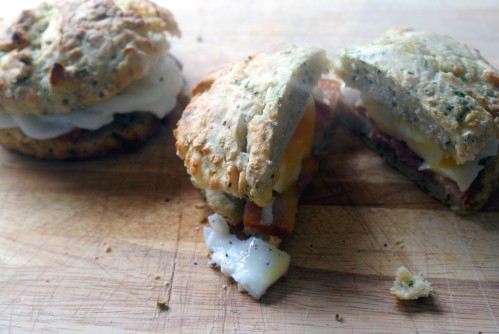 Scones for breakfast? Yeah, it's pretty weird, but bear with me. These are savoury scones, flavoured with cream cheese and chives, split and filled with bacon and a poached egg. See what I mean? This is a goood idea. I made mine quite big (using the 10cm fluted cutter) in order to fit an egg and some bacon inside, but you could make mini versions and fill them with cream cheese and rocket for an afternoon tea (I'm all about the savoury at an afternoon tea, it's so often overlooked) or maybe avocado and roast tomatoes or goats' cheese? You get the idea.

I adapted this recipe from Joy the Baker, but I would suggest checking out Joy's recipe too as it looks amazing.
300g plain flour
1 tbsp baking powder
¼ tsp bicarbonate of soda
1 tsp salt
1 tsp sugar
½-1 tsp coarsely ground black pepper (depending on how spicy you like your biscuits)
1 bunch fresh chives, chopped
60g unsalted butter, cold and cut into cubes
115g cream cheese, cold
185ml buttermilk, cold, plus extra for glazing
Preheat the oven to 200C.
Put all of the ingredients, except the buttermilk, into a food processor and blitz until the butter and cream cheese are in small pieces.
Stir in the buttermilk until the mixture just comes together as a dough.
Tip onto a floured work surface, knead together briefly and pat out into a circle about 4cm thick. Cut the scones and place onto a baking tray. Brush the tops with a little buttermilk (try not to let the buttermilk run down the sides of the scones).
Bake in the oven for 12-15 minutes, or until well risen and golden.
YOU MIGHT ALSO LIKE...