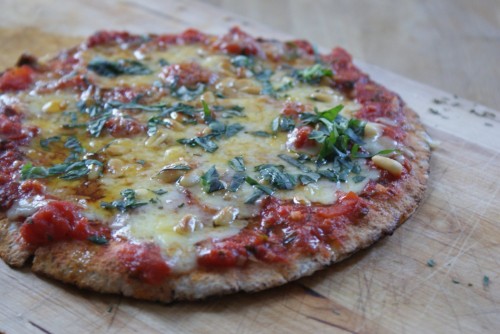 These pizzas are a great last minute dinner. So easy to make and a great (healthier) alternative to takeout pizza. You need to start with flatbreads rather than tortillas (try a turkish corner shop for the best) as they are sturdier and will hold up to the toppings better.

I often make an absurdly quick tomato by sizzling some garlic and chilli in olive oil, pouring in a can of chopped tomatoes and simmering for 15mins or so until thick and seaoning well. But you could just as easily use halved cherry tomatoes.
Top with whatever you like and bake for 10-15mins until the cheese is bubbling and golden. The key here is restraint – keep it simple and don't pile on the toppings if you want to keep your pizza crisp otherwise, and I'm speaking form experience here, you end up with a soggy mess.
Some ideas for toppings:
A thin layer of tomato, a little mozzarella and some pine nuts. Top with shredded basil when cooked.
Top with rocket and avocado
Goats cheese, walnuts and a few dollops of onion marmalade
Chargrilled aubergine and pine nuts (a little oregano would be good here)
Any combination of anchovies, capers and olives
Thinly sliced pear, gorgonzola and pine nuts, topped with some rocket or watercress.
Tags: anchovy, avocado, capers, cheese, olives, pizza, rocket, tomato
YOU MIGHT ALSO LIKE...