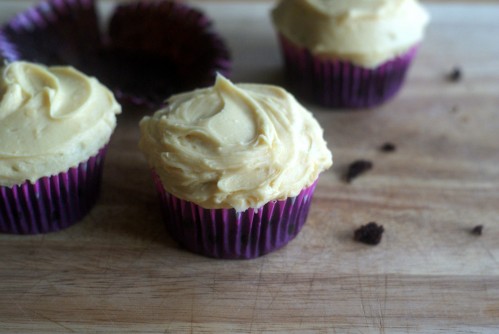 I recently discovered caramelised white chocolate – sounds pretty weird right? Wrong. Caramelising it takes white chocolate from sweet and sometimes cloying to something similar to dulce de leche or (with a pinch of salt) salted caramel, but still with a hint of white chocolate at the end.
Starting to sound better? The idea is to break up some white chocolate and bake it in the oven, taking it out every so often to smear the molten white chocolate over the tray. After a good 50-60 minutes, it will change colour to a deep golden-brown and this is where the magic is.
The first recipe I made, the caramelised white chocolate gets swirled into ice cream which I served with a jelly made with homemade blackberry liqueur and let me tell you, it was one of those truly awesome dessert experiences.
Since then, I've made the ice cream a few more times (and you should too), but I've also been thinking about what else I could use the chocolate for and of course, cake came to mind. In particular I thought it would make an awesome icing.
I've based these cupcakes on my favourite fudgy chocolate cake recipe, but tweaked it slightly to make them less sweet and with a richer chocolate flavour. They act as the perfect foil for the butterscotch-like icing. You know what I like most about these cupcakes? I actually like the icing, usually it's too sweet for me and there's always too much of it, but here it works perfectly with the cupcakes.


makes 12
For the cupcakes
75g plain flour
35g spelt flour (or just use all plain flour)
100g caster sugar
50g brown sugar
50g cocoa powder
¾ tsp baking powder
¾ tsp bicarbonate of soda
1 egg
125ml milk
60ml vegetable oil
1 tsp vanilla
125ml boiling water
Preheat the oven to 180C and line a muffin tray with paper cases.
Measure all the ingredients into a mixing bowl, except the boiling water. I don't normally sieve things, but I would sieve in the cocoa powder and brown sugar as they tend to be a bit lumpy.
Whisk everything together until smooth, then slowly whisk in the boiling water.
The mixture will now be quite runny, so transfer to a jug and carefully pour the batter into the paper cases until about two-thirds full.
Bake in the oven for 15 minutes, or until risen and the tops are springy to the touch.
Remove from the oven and set aside to cool for a few minutes. Transfer from the tray to a cooling rack and leave to cool completely.
Meanwhile…
For the icing
100g white chocolate
pinch sea salt
140g butter
140g icing sugar
Reduce the oven to 120C.
Break the chocolate up into small pieces and drizzle with a tiny bit of vegetable oil. Mix everything together with your hands.
Bake in the oven for 10 minutes. Remove the tray from the oven and spread out the molten chocolate.
Repeat this process of cooking in 10 minute batches and re-spreading, until the chocolate has turned a deep golden-brown. Don't be tempted to skimp on this part, the longer the white chocolate bakes, the more pronounced the caramel flavour. It usually takes about 60 minutes for me.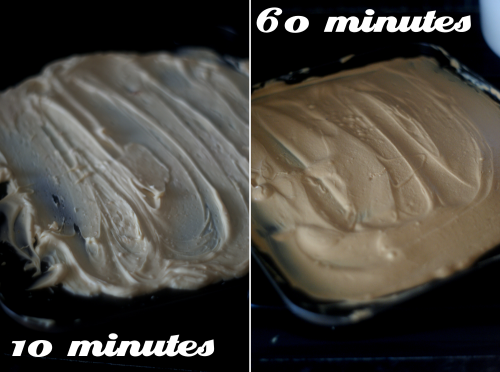 Scrape the caramelized chocolate into a bowl, stir in a small pinch of salt and set aside to cool.
Meanwhile, beat the butter until soft and fluffy, then carefully stir in the icing sugar. Beat for another few  minutes or until pale and fluffy. Beat in the cooled white chocolate.
You can either transfer the icing to a piping bag and pipe the icing onto the cupcakes or spread it on with a pallet knife.
Note: These cakes are really moist, so will keep happily for a couple of days in a tupperware.
YOU MIGHT ALSO LIKE...