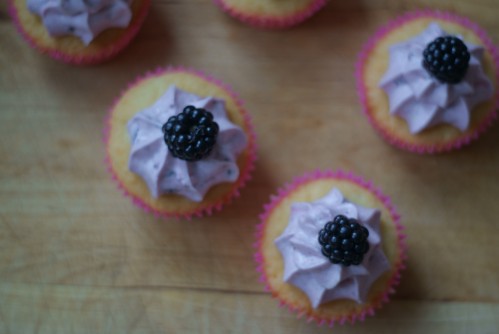 Do you like cupcakes? There's no denying they look good, but they can often disappoint – slightly dry cake and a mountain of overly sweet icing. You've probably guessed by now that these cupcakes are a little bit different. First, I only pipe the icing into the middle of the cake, so the cake to icing ratio is a bit better. But what really makes a difference is adding crushed blackberries to the icing. Not only do you get the pretty lilac colour, but the sourness of the fruit cuts through the icing as well. Blackberries are bang in season right now, but could try with raspberries and strawberries. I also use this fruity icing for layer cakes too – pretty colour and one of your five a day (ha!).

makes 8-12
125g very soft butter
125g sugar
2 eggs
125g flour
2 tsp baking powder
½ tsp bicarbonate of soda
2 tbsp milk
For the buttercream icing
125g very soft butter
250g icing sugar
60g blackberries, plus 8-12 whole blackberries for decoration
Preheat the oven to 180C. Line a muffin tray with cases.
Cream the butter and sugar together until pale and fluffy. Beat in the eggs, one at a time, until well combined. (Add a spoonful of the flour if the mixture looks like it's curdling.)
Sift over the flour, baking powder and bicarbonate of soda and fold together.
Stir in the milk, adding a little more if necessary to achieve a dropping consistency.
Spoon the mixture into the muffin cases (I like to use an ice cream scoop) and bake in the oven for 15-20 minutes.
For the buttercream icing, beat the icing sugar and butter together in a bowl for about five minutes, or until really pale and fluffy.
Crush the blackberries and gently mix into the icing.
You can either pipe the icing onto the cakes (I used a 1cm star nozzle) or spread it on with a palette knife.
Tags: blackberry, cupcake
YOU MIGHT ALSO LIKE...