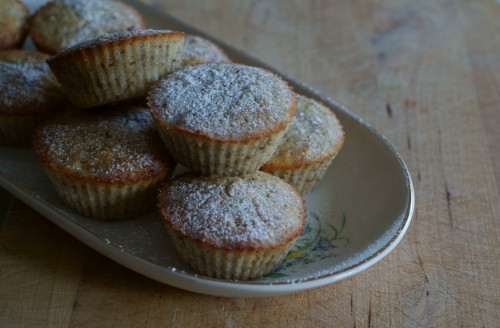 This blog is starting to make it look like I only eat cakes at the moment. I promise I do eat other food, even things that are blog-worthy, but somehow I get too caught up in eating and then it's too late to take a picture.
So what have I been eating recently? A fabulous Honest burger (get there early to avoid the queues), this nutmeg and honey ice cream which we turned into outrageous affogatto. Paella from Rick Stein's new book (which I can't recommend enough), a pork, chorizo and chickpea stew (similar to this but with pork shoulder, so I cooked it for ages in the slow cooker). I recently did some catering for an afternoon tea for a hen party and made these cheese scones, amongst many other things, but the scones were definitely the favourite.
So now for the cake. These were one of those fortunate creations that happen when you're trying to use up ingredients. Some over-ripe bananas, egg whites in the fridge and various packets in my cupboard. What you get is a dense, nutty cake – crisp on the outside and soft in the middle. I like them with a coffee for an afternoon treat (like I need an excuse) but I've also managed to convince myself that they're suitable for breakfast too – what with the bananas and nuts…
Have you heard of friands before? They're a type of financier made with egg whites and baked in a specially shaped tin – they're very popular in Australia and New Zealand. I don't have a friand tin, so I used a muffin tin, but you'll need a good non-stick one, or even better, a silicone one. I have some silicone muffin cases that I used to make sure they didn't stick.
makes 12-15
185g butter
100g pecans
60g ground almonds
150g icing sugar
75g plain flour
75g dessicated coconut
6 egg whites, lightly whisked
2 overripe bananas, mashed
Melt the butter and set aside to cool slightly
Preheat the oven 180C. Grease the holes of a muffin tray (or friand tin).
Blend the pecans until finely ground then tip into a bowl with the ground almonds, icing sugar, flour and coconut. Mix until well combined.
Whisk the butter, egg whites and mashed bananas in a mug, then stir into the dry mixture.
Spoon the cake batter into the muffin holes until nearly full and bake in the oven for 20-25 minutes, or until golden-brown and a skewer inserted in the middle comes out clean.
Remove the friends from the oven, set aside to cool slightly, then remove from the tin.
YOU MIGHT ALSO LIKE...