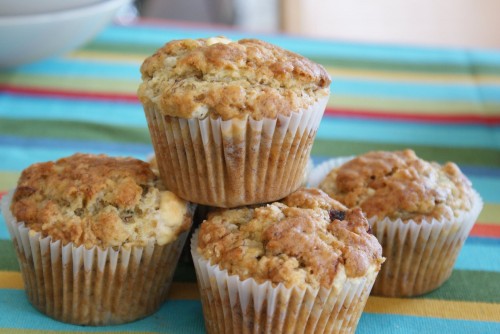 I've taken to freezing bananas whenever there's a stray overripe one lying around. It renders them almost completely useless, as they turn into a sludgy mess when defrosted. However, looks aside, they do make perfect banana bread and that way I can freeze a banana every so often until I have enough in the freezer to bake with.
I came across this recipe while looking up Nigella classic banana bread in How to be a Domestic Goddess. These are ridiculously easy to make and taste as good at they sound. The dried raspberries (or cherries) contrast with the sweet banana muffin and the white chocolate adds a butterscotch touch.
Ingredients
Taken from How to be a Domestic Goddess but changed slightly
125g butter
200g sugar
1tsp vanilla
3 ripe medium bananas
4tbsp yoghurt
2 eggs
1tsp bicarbonate of soda
1/2tsp baking powder
300g flour
40g dried raspberries, cherries
50g white chocolate
Preheat the oven to 180C and line a muffin tray with cases.
Melt the butter in a saucepan and stir in the sugar and vanilla using a fork.
Add the bananas, mashing them into the mixture as you go.
Stir in the eggs, yoghurt, baking powder and bicarbonate of soda.
Finally add the flour, chocolate and raspberries, stir until just combined and divide between the 12 muffins cases.
Bake for 20mins until golden on top and a skewer comes out clean.
Tags: banana, chocolate, raspberry
YOU MIGHT ALSO LIKE...