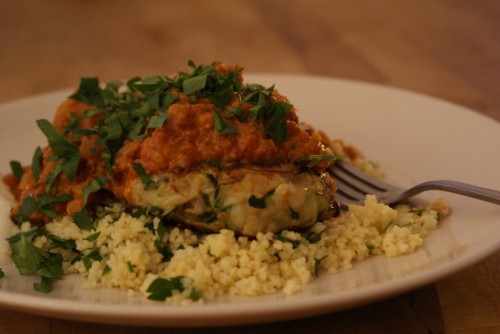 I'm aware this is another courgette recipe. What can I say? We're overwhelmed, not only are we getting them from our vegbox but the marrows are also threatening to take over at the allotment we're babysitting.
Having said that, it's amazing what the pressure to use up a couple of huuuge marrows can do, I've come up with some genuinely delicious and different ways to cook courgettes, my favourite is still this soup, we made a huge batch out of the marrows.
This recipe is another gem, from none other than Cranks
, I always forget just how good this book is, full of delicious and unique vegetarian recipes. It has guided me through budding vegetarianism and fed my friends and I through university.
These are crisp, delicate, gnocchi-esque fritters, eaten with a spicy tomato and almond sauce, couscous and yoghurt. I made the tomato sauce the day before in about 10mins and then made the fritters on the day. Cranks suggests making little balls and deep frying them. We went the lazy route and shaped larger fritters that we shallow fried. However, next time I think I will go all out and deep fry them (and I include instructions to do that below) – the crispy edges are just so good.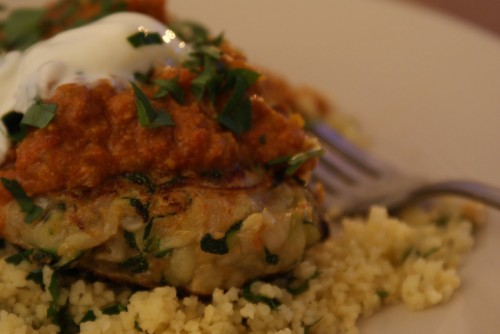 Ingredients
Serves 4
500g courgette, grated
1 onion, finely chopped
60g flour
1tsp paprika
1 red chilli, finely chopped
3tbsp chopped coriander
1/4tsp baking powder
1tsp salt
1 bunch coriander, chopped
vegetable oil for frying
Tomato and Almond Sauce
1 onion, finely chopped
1 red chilli, finely chopped
1 small piece ginger, grated, juice reserved
2tsp ground cumin
1tsp turmeric
2tsp paprika
2tsp garam masala
1 can chopped tomatoes
3tbsp ground almonds
To serve: couscous, yoghurt and extra chopped coriander
Make the tomato and almond sauce first, it benefits from sitting around for a while letting the flavours develop.
Heat a large saucepan with a splash of oil. Fry the onions, ginger and chilli for 5 or so mins. Add the spices and fry for a few mins more.
Add in the chopped tomatoes and ground almonds. Simmer for 15-20mins until thick and season well.
To make the courgette fritters:
Squeeze the grated courgettes in a muslin cloth or clean towel to remove as much excess water as possible and tip into a large mixing bowl
Add the rest of the ingredients and stir well.
Now pour the oil into a deep saucepan – you want it to be about 10–12cm deep – and heat it to 180°C. To check, just drop a piece of bread into the oil, if it floats and starts to sizzle immediately, it's ready.
Flour your hands and shape a tablespoon of mixture at a time into small balls. Carefully place into the hot oil. Fry the pieces gently, turning them a couple of times with a slotted spoon.
When they're browned and crisp, lift them out of the oil, allowing any excess to drip back into the pan, and drain on kitchen paper.
Serve on a mound of couscous with a spoonful of the sauce, a dollop of yoghurt and a sprinkling of coriander.
Tags: courgette, couscous, tomato
YOU MIGHT ALSO LIKE...