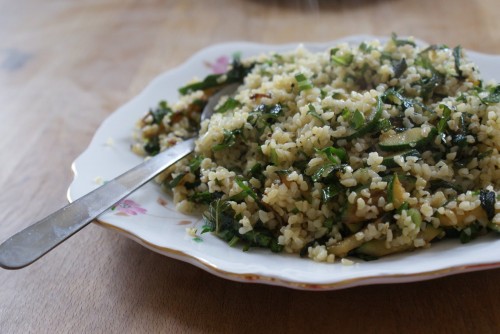 Lovely nutty bulghar wheat with plenty of mint and coriander – the base for a classic tabbouleh. This time I used courgette, cut into small pieces and fried until golden along with a decent hit of chilli for a full flavoured salad that improves with age, making leftovers perfect for lunch. I also made a simple tahini sauce to drizzle over that is perfect with roasted vegetables too.
We had it as part of the mezze spread, but it would be good with haloumi, lamb or chicken. Of course, you can always use couscous if you don't fancy/have bulghar wheat.
Ingredients
Serves 4 as a side dish
200g bulghar wheat (approx 1cup)
2 medium courgettes (approx 300g)
1 small bunch coriander, chopped
1 small bunch mint chopped
1 clove garlic, finely chopped
1 chilli finely chopped
6 spring onions, sliced
juice ½ lemon
3tbsp olive oil
Cover the bulghar wheat with 500ml water (add a little vegetable stock for flavour), cover and simmer for about 5mins until all the water is absorbed, then turn off the heat and leave for 10mins.
Meanwhile, cut the courgettes into 4 lengthways and slice out the fibrous central bit, and slice into thin crescents.
Heat a pan and fry the courgettes in 1tbsp sunflower oil until golden, season well and add a squeeze of lemon juice.
Once the bulghar wheat is cooked, combine in a bowl with the rest of the ingredients.
Serve on a large plate with the tahini sauce drizzled over
Tahini Sauce
1 clove garlic, finely chopped
1 tbsp lemon juice
2tbsp tahini
2 tbsp yoghurt
2 tbsp water
Mix the ingredients together well, adding a little more water if necessary to loosen the mixture.
Tags: bulghar wheat, courgette, couscous
YOU MIGHT ALSO LIKE...