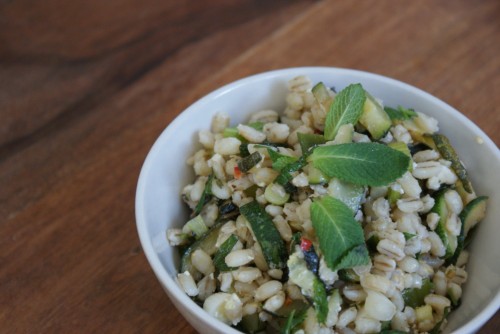 I bought a bag of barley last year with high hopes of making hearty soups and comforting stews in the winter months. A year later and there was still half a bag languishing in the back of the cupboard. We've still got some courgettes in the fridge, and I decided to try using the cooked barley in a filling, healthy salad. Think of cooked barley like bulghar wheat, it has a chewy, nutty texture that works perfectly with lots of fresh herbs and veggies. I've also got it on my list to try as an alternative to arborio rice for a healthier version of a risotto.
This is a simple salad of fried courgettes, mint, spring onion and goats' cheese, what really makes it is stirring the cheese into the hot barley to create a creamy cheesy sauce. This keeps well and the flavours develop over time, so perfect for making in advance although I would allow it to come to room temperature before serving and sprinkle over a few extra chopped herbs.
Ingredients
300g pearl barley, cooked in vegetable stock
1 tbsp olive oil
3 medium courgettes, chopped
1 red chilli, finely chopped
1 small bunch parsley, roughly chopped
1 small bunch mint, roughly chopped
1/2 lemon, juice
4tbsp olive oil
4 spring onions, sliced
200g feta or goats cheese
Heat the olive oil in pan and fry the courgettes until golden, add a squeeze of lemon and season well.
Stir the courgettes and the remaining ingredients into the hot, cooked barley. Stir well and season to taste.
YOU MIGHT ALSO LIKE...