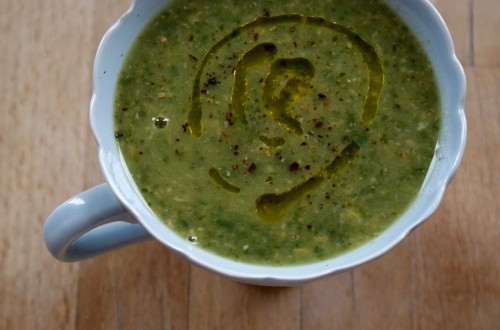 Yet another courgette recipe (we're seriously overrun here) and this one I'm really proud of. I'd forgetten how easy a good bowl of soup is to make and how satisfying. Taking inspiration from this 101Cookbooks recipe, this is a simple and fresh soup of courgette and spinach, I add chickpeas for extra thickness and just before blending threw in a load of mint and coriander and a squeeze of lemon juice to make it fresh and zingy. Finish off with a drizzle of good olive oil or a dollop of yoghurt.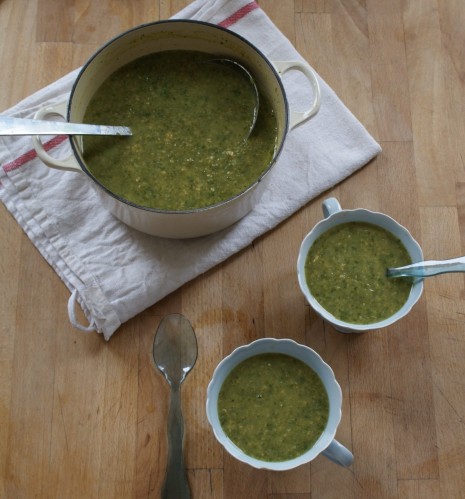 makes enough for 2 with leftovers.
Ingredients
1 onion
3 cloves garlic
1/2 red chilli
2 medium courgettes
about 100g spinach (or spring greens)
all roughly chopped
25g butter
750ml vegetable stock (from bouillon powder is fine)
1 can chickpeas, drained
juice 1/2 lemon
small bunch each of coriander and mint
Heat the butter in a large saucepan, sweat the onion, garlic and chilli for 5 or so mins until softened.
Add the courgette and continue to cook for a few minutes until they take on some colour.
Pour in the hot stock and bring to the boil. Add the chickpeas, and if using spring greens, you want to add them here. cover and simmer for 10-15mins.
If using spinach, add now and cook until the spinach is wilted (it will only take about 30s).
Add the mint, coriander and lemon juice and blend immediately.
Tags: chickpea, courgette, spinach
YOU MIGHT ALSO LIKE...