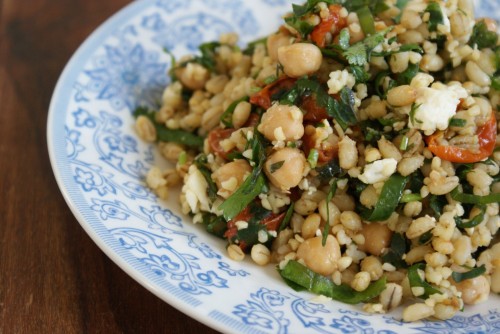 With the onset of December comes the beginning of the party season. After a week of over-indulgence, I needed something healthy and fortifying, yet filling enough to stop me reaching for a bacon sandwich. This salad is all about the combination of textures: soft and chewy barley, bulghar wheat and plump chickpeas. This was mostly due to what was in my cupboard, so feel free to play around with the grains, try lentils, couscous or brown rice.
Now, a bowl of barley, bulghar wheat and chickpeas can be fairly unimpressive so I dressed it with loads of herbs: parsley, mint and coriander, and it is worth having all three as each one adds their own little flavour. A handful of shredded spinach, some sweet roasted cherry tomatoes and a little crumbled feta make this into something really tasty. After the success of this salad, I'm thinking of variations of these recipes for something a little healthier and filling.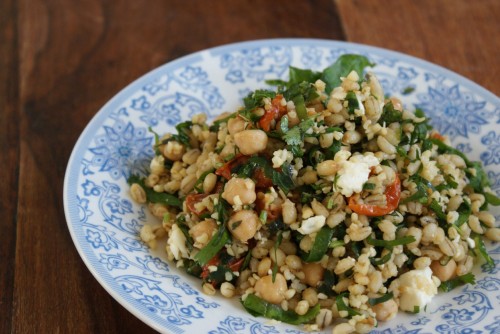 Ingredients
200g pearl barley, cooked
100g bulghar wheat, cooked
1 tin chickpeas, drained
1 garlic clove, finely chopped
handful each of parsley, mint and coriander, chopped
250g cherry tomatoes, halved and roasted
2 handfuls spinach, shredded
½ lemon, juice only
4tbsp olive oil
100g feta or goats cheese, crumbled
Once you've cooked the barley and bulghar wheat, this is basically an assembly job.
Mix all the ingredients, except the lemon juice and olive oil, together in a bowl.
Squeeze over the lemon juice and add the olive oil, stir well and season to taste, remember you'll be adding feta so go easy on the salt.  It might also need a little more olive oil or lemon juice.
Crumble over the feta and give it a final stir before serving.
Tags: barley, bulghar, bulghar wheat, spinach, tomato
YOU MIGHT ALSO LIKE...