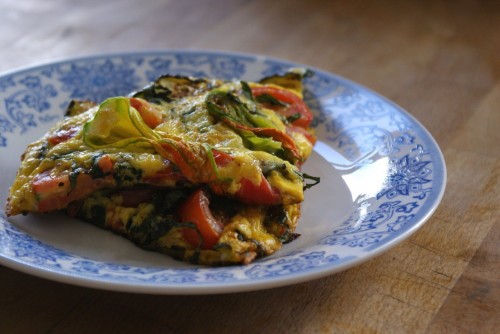 A colourful, summery fritatta making the most of the abundant supply of courgettes and sweet and juicy cherry tomatoes at the moment; finished off with a little cheese and a sprinkling of basil (from our overflowing window box). Low in carbs, packed full of veggies and nutrient rich eggs; this is superhealthy summer eating.
Perfect for brunch with bacon or sausages and toast (I would also have it with baked beans but that's probably just me…) or lunch with a green salad eaten in the sunshine.
As with most of my recipes, this is very relaxed. Use what you have; broad beans or spinach would work equally well here. Or maybe, continuing the italian theme, add a torn ball of mozzarella for oozy, stringy, cheesy goodness. Our vegetable boxes have been low on onions recently, but I imagine if I make this again, I'd add a little finely red onion for extra bite. You could also make this even easier by laying the cooked courgettes in the bottom of a small greased baking dish, topping with the tomatoes, basil, cheese and eggs and baking at 180C for about 20mins until puffed up and golden brown.
Ingredients
Serves 2
2 medium courgettes
handful basil, shredded
handful cherry tomatoes, quartered
3 eggs and a splash of milk
knob butter
approx 50g cheese, grated
Slice the courgettes thinly on the diagonal.
Heat a medium non-stick frying pan with a little oil. Fry the courgette slices in batches until blistered and brown. Try to refrain from adding too much oil to the pan otherwise you'll end up with a greasy frittata. Season once cooked.
Meanwhile, whisk the eggs and milk with plenty of salt and pepper.
Once cooked, return all the courgettes to the pan with the butter and spread out evenly, sprinkle the basil and tomatoes over the top.
Preheat the grill.
Carefully pour the egg mixture into the pan, making sure all the vegetables get covered and add the grated cheese. Turn the heat down and using a spatula, carefully scrape the cooked edges inwards, allowing the uncooked eggs to run into the rivulets.
Once the frittata is mostly cooked around the edges, but the middle is still fairly runny, pop under the grill until the top is completely set.
To serve, run a spatula around the edge of the pan to loosen the frittata and cut into 4 wedges.
Tags: basil, courgette, eggs, tomato
YOU MIGHT ALSO LIKE...