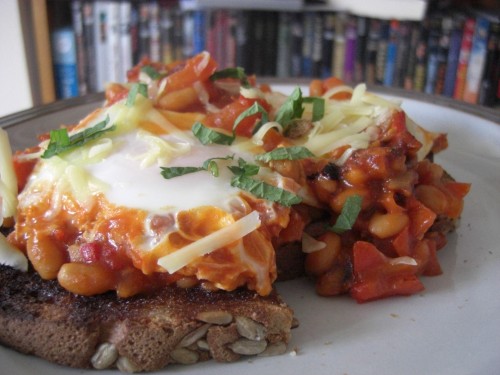 Huevos rancheros is the perfect brunch, something a bit more special than your average fry up. Its basically eggs fried/poached in a spicy tomato salsa. I've seen recipes where you fry the eggs separately and add the salsa on top, but I prefer cooking the eggs in the sauce.
If you were being authentic, you would eat this with tortillas, and you certainly wouldn't put baked beans in it. But, one, I love baked beans and two, I couldn't be bothered to go out and buy tortillas, I think it is nicer with them though.
Huevos Rancheros
Serves 2 hungry people
1 onion
1 red pepper
2 cloves garlic
1 red chilli
4 ripe tomatoes (or 1 can chopped tomatoes)
all finely chopped
½ can baked beans (optional! )
½ tsp ground cumin
½ tsp paprika
4 free range eggs
toast/tortillas to serve
Fry the onions and peppers in a little oil until softened, add the garlic, chilli and spices and fry for a fruther few mins, now add the tomatoes, season and stir well. Simmer for 10-15mins until you have a rich tomato salsa, add a little water if necessary), now stir in the beans. Make a little hole in a corner of your pan and gently crack an egg in, repeat with the rest of the eggs. Turn the heat up and cover, cook for 5-10mins until the eggs are cooked as you like them. A little extra chilli sauce is also very good here, as is grated cheese.
YOU MIGHT ALSO LIKE...