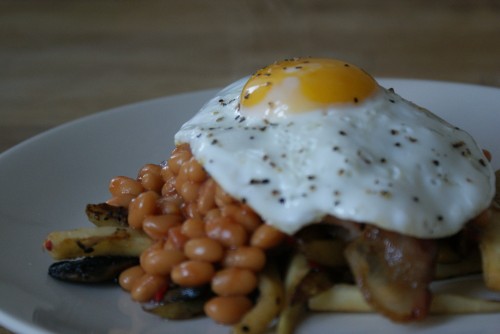 I'm really getting into winter cooking and my current love affair is with parsnips, so sweet and tasty, roasted up with some paprika and chilli to balance the sweetness, there's not much better.
I made this hash for breakfast the other day, the parsnips were my effort to sneak in a few more vegetables but actually add something more interesting to your classic potatoes, I also think some sliced red pepper could work well here too. Top with baked beans and a fried egg on top and you're set up for the day…
Ingredients
Serves 4
6-8 rashers streaky bacon (optional)
1 onion, sliced
1 red pepper, deseeded and finely sliced
350g potatoes, peeled and cut into matchsticks
350g parsnips, peeled and cut into matchsticks
1 clove garlic, finely chopped
1 red chilli, finely chopped
2 cans baked beans
4 eggs
Heat a large frying pan and cook the bacon until golden and crispy then remove.
In the same pan, fry the onions in a little oil for a few mins, then throw in the potato, pepper and parsnip along with the chilli and garlic
Cover, turn to low and cook for 15mins, stirring every so often to make sure nothing burns on the bottom.
Meanwhile, heat the baked beans and fry the eggs.
Once the potatoes and parsnips are cooked through, season well.
Serve a mound of the hash with a spoonful of baked beans before topping with an egg.
YOU MIGHT ALSO LIKE...