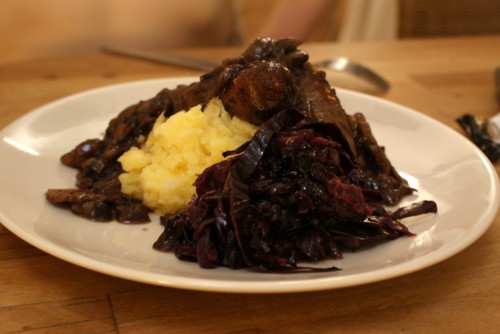 Mmm… this was a seriously decadent, rich and comforting dinner. We got some venison sausages with our veg box this week (they were on offer). Naturally we immediately thought of sausage and mash and I had a little braised red cabbage in the freezer. It was the wine and mushroom sauce (inspired by our Abel and Cole Cookbook
) that really made this into something extra special even though it was cooked in the time it took to boil some spuds and grill the sausages.
Ingredients
Serves 4
20g dried mushrooms
250ml stock (chicken or beef)
50g butter
1 red onion, finely chopped
250g mushrooms (preferably a mix of wild and chestnut), sliced
250ml port or red wine
1tbsp cornflour
Make your sauce whilst the spuds are boiling anf you grill the sausages.
Cook the onions in the butter for 5 mins until soft
Turn up the heat and throw in the mushrooms, fry for 5 more mins until starting to turn golden.
Pour in the port and allow to bubble away for a few mins until most of the liquid has gone.
Mix the cornflour to a smooth paste with a little water and slowly stir into the pan. Add the stock, bring to the boil and cook a for another few minutes, stirring until the sauce thickens, add a little more stock or water if the sauce gets too thick.
Tags: mushroom, potato, swede, venison
YOU MIGHT ALSO LIKE...