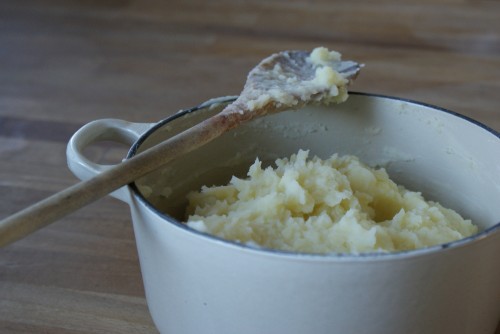 I can't believe I've not waxed lyrical about my love for mash before… it is possibly one of my favourite foods, I always defer to stodgy 'comfort' food and mashed potato is the ultimate, I could eat bowls and bowls. Given the proliferation of potatoes in my veg box recently, I've had plenty of excuse to make it, especially with a bit of sauteed cabbage thrown in to make it a bit 'healthier', any leftovers made into potato cakes. I must also admit to a love of mash with baked beans, but maybe that's just me.
Of course, when I think of mash, I think of The Big Bang and then I get hungry, working there gave me the idea for my current favourite: mustard mash, made with grainy mustard. They also did a fabulous mash made with pureed beetroot that turned it bright pink.
To make good mash, I think you need to start with good (organic) floury potatoes, boil them until really soft, otherwise you'll get lumps, then drain them really well, you can even leave them in the colander to steam for a bit to make sure all the moisture's gone. I push my potatoes through a ricer, but you can mash like mad. Meanwhile heat some milk, butter or cream; this step is essential as adding cold milk turns the mash gluey instead of smooth and creamy. Mixt the milk in with plenty of seasoning and beat like mad with a wooden spoon to get a creamy consitency. Other ideas for variations include:
Cheddar Cheese Mash: Add grated strong cheddar and mix until melted in (you may want to go a little easier on the cream).
Spring Onion Mash: Finely slice a bunch of spring onions and warm with the cream before adding to the potatoes.
Garlic Mash: Boil a couple of cloves of garlic along with the potatoes, peel and squeeze the gooey insides into the mash.
Mustard Mash: Add 1-2tbsp grain mustard
Horseradish Mash: Add 2 tbsp fresh horseradish , ready grated horseradish from a jar, or creamed horseradish to give your mash a real kick.
Now, mash isn't confined to potatoes alone, swede, parsnip, squash, sweet potatoes all make fabulous mash and count as one of your 5-a-day, this article from Hugh Fearnley-Whittingstall in Last week's Weekend Guardian was brilliant, so many ideas, i'm currently dreaming of Parsnip, Leek and Potato Mash…
YOU MIGHT ALSO LIKE...