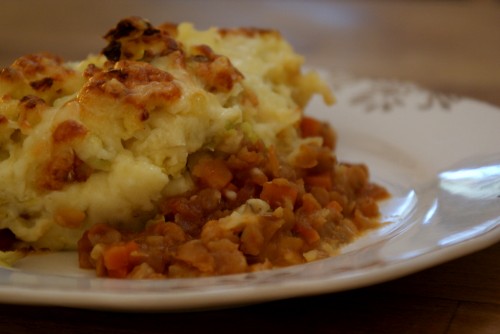 I guess you could call this more of a 'gardeners' pie' as naturally there is no lamb in it, either way given this was a random idea thrown together after work, its definitely as rich, filling and hearty as any meaty version and as delicious too.
Red lentils braised in red wine and tomatoes, topped with buttery mashed potatoes and grated cheese, and baked until bubbling and golden. I used plenty of carrots and even a little cabbage in the mash (I always seem to have leftover cabbage in my veg box) so as well as the lentils, this makes for virtuous eating in fitting with January Healthy Eating (surely we can stop that soon?)
This is a really basic recipe, perfect for varying with what you feel like, just googling this I found recipes using sweet potato mash, goats cheese topping and beans instead of lentils, so feel free to experiment. The only word of warning is to make sure you pack plenty of flavour into the lentil sauce as anyone who's cooked lentils and/or beans before knows, they do taste good, they just need a little extra care and attention to get there.
This is perfect cook ahead food to serve to large groups of people. You could even make double and freeze half, great for chucking in the oven after a busy day. Leftovers make perfect packed lunches too.
Ingredients
Serves 4 (with leftovers!)
2 onions, peeled and finely chopped
2 carrots, peeled and diced
3 cloves garlic, finely chopped
2 bay leaves
200g red lentils
250ml red wine
1 can chopped tomatoes
1tsp stock powder (or ½ stock cube)
900g floury potatoes, peeled and cut into 5cm chunks
50g butter
200ml milk
100g strong cheddar, grated
Heat a large casserole and add 2tbsp oil, fry onions and carrots gently for 5mins, add the garlic and bay leaves and fry for a few mins more.
Tip in the lentils and stir well to coat in the oily, oniony juices.
Pour in the red wine and allow it to bubble aways for about 3mins.
Add the chopped tomatoes, fill the can with water to rinse it out and add this too.
Add enough extra water so that lentils are covered in about 2cm water.
Bring to the boil and simmer for 20-30mins until the lentils are cooked, top up with water if necessary, you want a fairly liquid sauce.
Once the lentils are cooked , check the seasoning and add salt and pepper.
Meanwhile boil the potatoes in plenty of boiling salted water until very soft, drain well and either push through a potato ricer or mash with a masher.
Heat the milk and butter in a small saucepan and pour over the potatoes, add plenty of seasoning and beat until smooth with a wooden spoon.
Spoon the lentil mixture into a large baking dish, top with the mashed potato.
Sprinkle over the grated cheese and bake at 200C for 20mins until bubbling and golden.
YOU MIGHT ALSO LIKE...