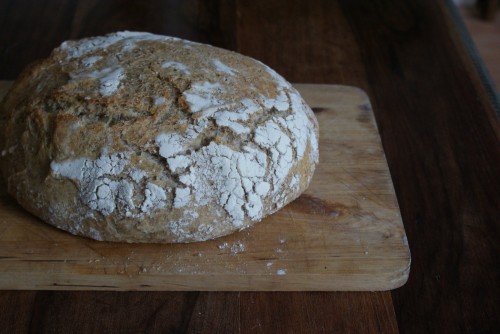 I've written about potato bread before (here), but that was almost a year ago and I was inspired to mention it again after baking some this weekend. Since last year, we have (on and off) had a pretty much continuous supply of potato bread, sometimes we use a little rye or spelt flour to give it more character, sometimes we bake it in different shapes. What stays the same is the sourdough like tang and the unbelievable toast it makes. Shop brought bread just doesn't cut it in comparison.
The idea of making bread yourself can often seem a daunting task. Whilst it does invariably take time, it's certainly not difficult and it is so satisfying to remove a delicious looking loaf of bread from the oven and the smell is incredible. I usually boil a couple of extra potatoes when I'm making mash or roast potatoes. If I have lots, then I cook enough to make 2 loaves as it freezes excellently.
Then all you do is reserve some of the starchy water the potatoes are cooked in and mash some potatoes into a large bowl containing, flour, salt, yoghurt and yeast; roll your sleeves up and get kneading. Let it rise in a warm place for an hour or two, punch out all the air and let it rise again before baking in a hot oven until golden and the bottom sounds hollow when tapped.
As long as your water isn't too hot (this will kill the yeast and stop it working), and you give it a good knead, there's not much that go wrong.
Also, check out these tips from baking god Dan Lepard.

Recipe.
YOU MIGHT ALSO LIKE...