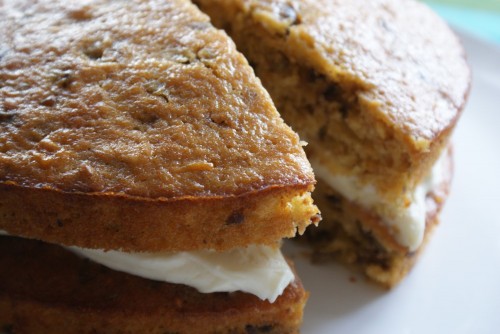 This cake was inspired by the delicious Gails in Hampstead. We went there for a post lunch cake and coffee (and promptly spent £10!). I decided on the carrot cake, a big blousy affair covered in cream cheese icing, moist and absolutely delicious.
It inspired me to make my own, especially as there are usually a few carrots lingering at the bottom of the fridge. This cake is a mish mash of flavours, yoghurt and oil for moistness, chopped dates reduce the amount of sugar needed and add a touch of caramel, a hint of orange and plenty of chopped pecans.
Is it as good as Gails? I think so and I don't have to pay 4 quid for a slice…

Ingredients
75g yoghurt
125ml sunflower oil
zest 1 orange and juice of 1/2
150g sugar
100g dates, finely chopped into a paste
3 eggs
175g plain flour
2 1/2tsp baking powder
2tsp cinnamon
3 carrots, peeled and finely grated
100g pecans, chopped
Whisk the sugar, oil, zest and yoghurt in a large mixing bowl.
Add the eggs one at a time and whisk in thoroughly followed by the orange juice and dates.
Sift in the flour, baking powder and cinnamon and mix well.
Stir in the carrots and pecans.
Transfer to 2 lined sandwich tins and bake at 180C for 30mins until golden and a cake tester comes out clean.
For the icing, beat a 200g tub of cream cheese cheese with 200g icing sugar and a squeeze of orange.
YOU MIGHT ALSO LIKE...