Carrot cake freshened with orange zest and a little texture from pistachio nibs comes together to make an altogether grown up carrot cake. Taken from the excellent Dan Lepard, I find his recipes tend to err on the side of complicated, so I've tweaked this to make it a little more user friendly whilst maintaining the seductive … By all means use his recipe and look at others too, they are not your run of the mill cake recipes and all the better for it too.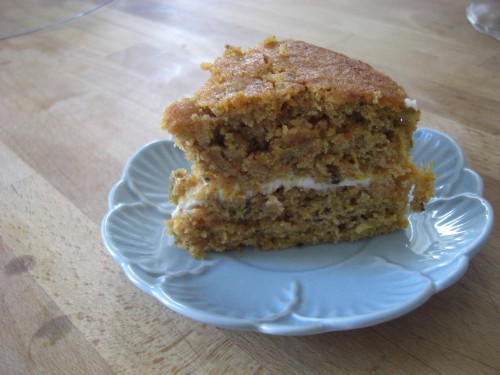 Cakes come into the realm of true indulgence when iced, and look particularly pleasing a top a cake stand, I used a very simple cream cheese icing, with a little lime juice and icing sugar. The other day, my friend Kat brought me some carrot cake she made with cinnamon cream cheese icing, something I've never thought to do but delicious! I've lined this up to try with my next carrot cake.
I normally have some tahini knocking around to make hummus, it also make a very good sauce in its own right that's perfect for roasted vegetables; here are some other recipe ideas. I'm sure no else is as silly as me, but a word of warning, do not keep tahini in the fridge. According the jar, it should be stored at room temperature and gets hard and difficult to use when kept in the fridge!
Whilst aimlessly browsing in Waitrose today, I saw a beetroot and tahini dip, I'm going to do some research, give it a try and get back to you, its always good to have new beetroot recipes…
Ingredients
75g tahini
125ml sunflower oil
Zest of 2 oranges, and 100ml juice (about ½ orange)
200g caster sugar
3 eggs
3 medium carrots (about 200g) grated finely
100g chopped pistachios
175g wholemeal flour (plain will do fine)
2½ tsp baking powder
2 tsp ground cinnamon
½ tsp nutmeg
Grease and line the base of 2 sandwich tins and preheat the oven to 180C.
Whisk the tahini, oil zest and sugar until smooth, next whisk in the eggs.
Add the carrots and mix to distribute evenly, your mixture should now be a vivid orange colour! Add the orange juice and stir thoroughly.
Sift the flour, baking powder, cinnamon and nutmeg into a separate bowl and mix together. Combine with the carrot mixture and fold together.
Finally, fold in the pistachios and transfer to the cake tins. Bake for 20-25mins until the tops are golden and firm to the touch and a cake tester comes out clean.
Remove from the oven and allow to cool completely before icing.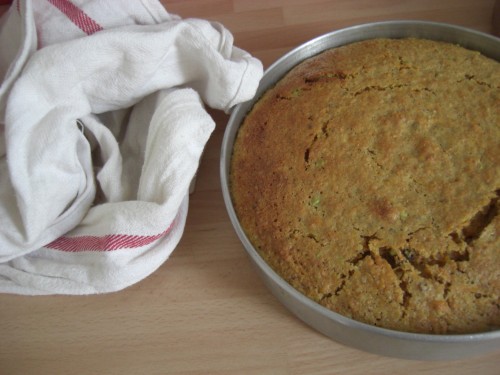 Icing
100g cream cheese
25g icing sugar
Juice and zest of half a lime.
Beat the cream cheese in a large bowl until softened, add the lime juice and beat until smooth.
Sift in the icing together and stir until dissolved.
Tags: carrots, orange, pistachio
YOU MIGHT ALSO LIKE...