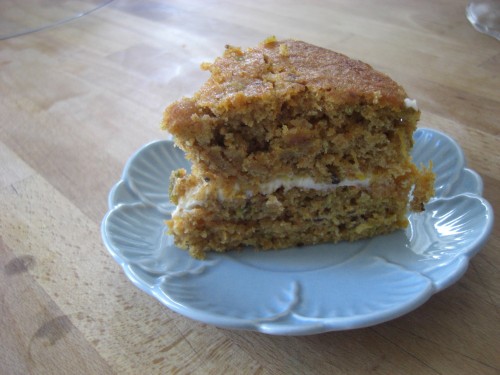 This is the easiest, tastiest carrot cake recipe ever. Based on an American recipe, it uses sunflower oil instead of butter which gives it that dense and moist carrot cake character. What follows is a basic recipe, but the beauty is, you can add whatever you fancy. Try adding some nuts: pecans, walnuts and pistachio are all good. A little orange or lime zest will add some zing and can also be used in the icing.
You can make a simple cream cheese icing by beating a tub of cream cheese with about 250g icing sugar. Try adding a little lime juice and zest or using mascarpone for a more luxurious filling. I've made this so many times, as a sandwich cake, as muffins and it's great baked in a rectangular baking tray: slather the top with icing and cut into squares.

Ingredients
100g raisins
2 eggs
125ml sunflower oil
200g light brown sugar
175g self-raising flour
pinch salt
½ tsp bicarbonate of soda
1 tsp cinnamon
½ tsp nutmeg
½ tsp mixed spice
300g carrots, grated
Preheat the oven to 180C. Grease and line two 20cm sandwich tins.
Pour boiling water onto the raisins and leave them to plump up.
Whisk the eggs, oil and sugar together in a bowl, then fold in the dry ingredients until smooth.
Drain the raisins and add them to the bowl with carrots, stir until smooth.
Divide the batter between the two tins and bake in the oven for 30 minutes until golden and a cake tester comes out clean.
Remove the cakes from the oven and allow to cool completely before icing.
Tags: carrots
YOU MIGHT ALSO LIKE...