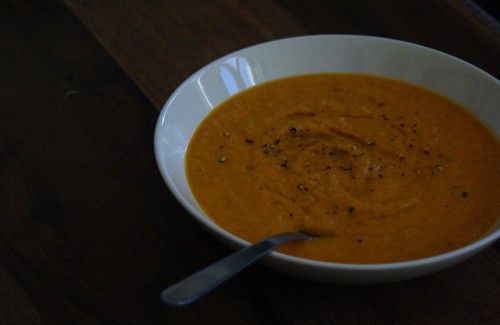 As I've mentioned before, I'm loving soup at the moment. With the weather on the turn, its the perfect comforting bowl and as I'm discovering, so easy. It's just a case of chopping and then sweating down some onion with whatever vegetables you have to hand; try adding lentils or beans to make it into a meal. This Cabbage and Bacon soup is a favourite from last year, or how about a zesty Courgette, Chickpea and spinach soup that makes the most of the last of the courgette glut.
This carrot soup is lovely and simple. Sweet carrots and lentils are simmered into a thick and warming soup and a hint of chilli and cumin add background warmth. Great for using up any limp carrots lurking in the bottom of the fridge (I always seem to have a few) and equally good (perhaps better) with brand new sweet and crisp carrots.
As usual, I would reccommend making lots for dinner, lunchboxes, afternoon snacks and finally the freezer – if you're going to make soup, you may as well make a big pot.
I blended this until chunkily smooth, but my mum (from whom I got recipe inspiration) simply simmers the soup for an age until the vegetables and lentils literally disintegrate. Try serving with a drizzle of olive oil, a dollop of yoghurt or a handful of shredded spinach for greenery.
Ingredients
serves 4
1 onion
2 cloves garlic
1 red chilli
4 medium carrots
-all roughly chopped
1tbsp cumin seeds
100g red lentils
1l vegetable stock
Heat a large saucepan pan and add a knob of butter with a little oil to stop it burning.
Add the onions, garlic, chilli and carrots and cook for 5 or so mins until softeneded.
Add the cumin seeds and cook for a few mins more.
Add the lentils and stir until coated in fragrant oil.
Pour in the stock, bring to the boil and simmer for 30mins.
If you want to, blend the soup until smooth.
Tags: carrots
YOU MIGHT ALSO LIKE...