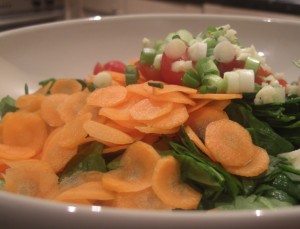 In an effort to be healthy… this is a salad Rose whipped up for us. I'm a big fan of most vegetables raw, as long as they're cut small enough. With healthy food and indeed anything you plan to eat, its really important to feed the eyes… I'm a sucker for anything that looks really pretty.
We used pretty much everything we had in the fridge, amongst other things; cherry tomatoes, spring onions and spinach which we shredded. I think these thinly sliced carrots look fab, (you do it by running a peeler over the top of a carrot) and they were only borne out of Rose's hatred for grating carrots! You can't see them but we put peas in too, the sweetness in a really welcome addition in this. I also love toasted seeds in salads, especially those toasted seedy sprinkles you can buy, then you don't have to bother toasting your own. Pine nuts are particularly delicious in this, but then pine nuts are delicious in everything!
The mustard dressing I mentioned in the Winter Coleslaw blog would go really well with this, but we actually just used lemon juice and olive oil, with the key ingredient, garlic, it makes everything tasty, believe me.
Tags: carrots
YOU MIGHT ALSO LIKE...