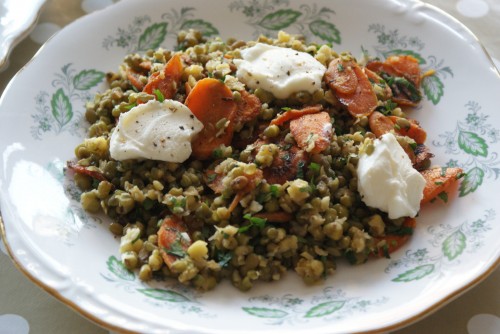 This salad has so many things going for it. It's healthy (natch), cheap (carrots and dried beans) and surprisingly quick to make. Not only that, but it keeps like a dream.
Inspired by an Ottolenghi dish from Nopi, this works in the same way as most of his cooking i.e. it's best as part of spread. Try it with a simple salad, some hummus and flatbread or throw in some protein in the shape of haloumi, grilled mackerel or roast chicken.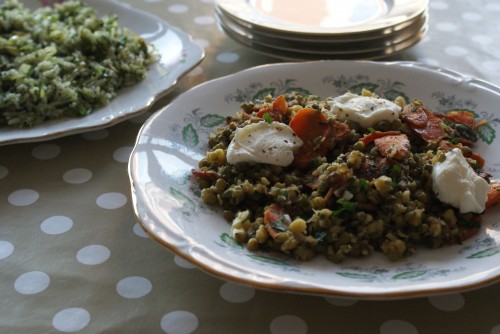 200g mung beans
50g butter
3-4 small carrots, sliced diagonally
1 tsp cumin seeds
1 garlic clove
1 tbsp chopped parsley
olive oil
½ lemon
labneh or Greek yoghurt, to serve
Tip the mung beans into a saucepan and cover with cold water. Bring to the boil, reduce the heat and simmer for 30-45 minutes, or until the beans are tender. (Keep and eye on them after 30 minutes as they can turn to mush in the blink of an eye.)
Meanwhile, melt the butter and splash of olive oil in a large frying pan and add the carrot slices (don't crowd the pan, it's better to do them in two batches instead) and cumin seeds.
Fry for about five minutes on each side, or until golden-brown and tender, then season really well.
Once the beans are cooked, drain, rinse in cold water, then drain again.
Tip the beans into a bowl and add the garlic, parsley, a generous glug of olive oil and some lemon juice. Season well and give it a good mix. Add more seasoning, lemon juice or oil, to taste.
Carefully stir in the carrots, then tip the whole thing onto a large serving plate. Top with dollops of labneh, some more parsley and maybe an extra drizzle of olive oil.
Tags: carrots
YOU MIGHT ALSO LIKE...