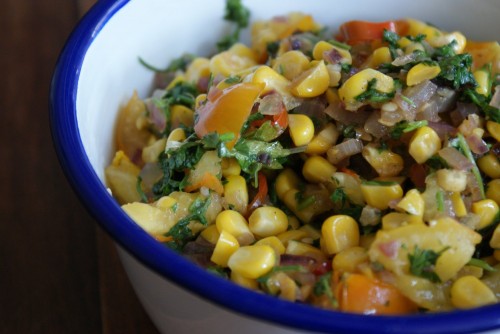 This salsa makes the best of late summer ingredients. Fresh sweetcorn, crispy and sweet, flavoursome tomatoes and fruity chillis from our (very small) kitchen garden finished off with some lime and coriander. Try it spooned over nachos complete with plenty of guacamole and soured cream.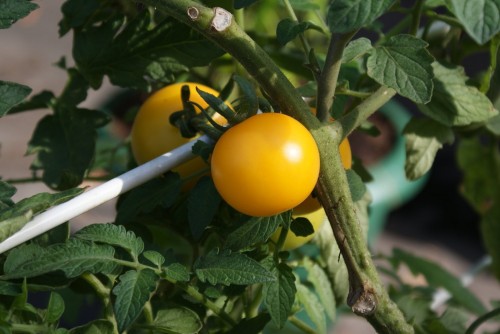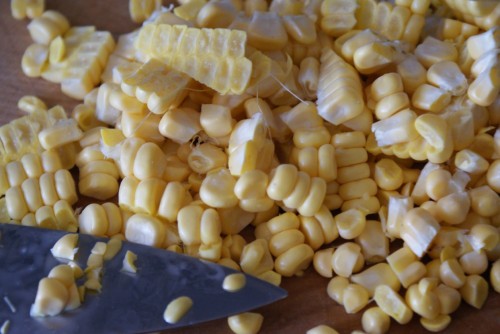 We used it in a mexican inspired (I make no claims of authenticity) brunch. Spoon some salsa onto a warm tortilla, top with some sliced avocado, a dollop of yoghurt and plenty of grated cheese and finish off with a fried egg. Wrap it up and prepare to make a mess as you eat it. I like this kind of brunch as I get the satisfaction of a fried egg (I'm all about eggs at the weekend) while shoe-horning in some vegetables at the same time, especially useful if I overindulged the night before. Eating something a little lighter than a full english also helps me fight the urge to go back to bed and no emerge again for the rest of the day…

Ingredients
1 red onion ( or a small bunch spring onions)
1 red chilli
2 cloves garlic
100g tomatoes
all finely chopped
1 sweetcorn cob
handful roughly chopped coriander
juice 1/2 lime
Peel the skin from the sweetcorn cob and run a knife down the edge to remove the kernels.
Heat a large frying pan, add a slug of oil and soften the onion, garlic and chilli for a few minutes.
Add the sweetcorn and continue to fry for a few more minutes until the sweetcorn is cooked, but still with a little bite.
Add the lime juice, tomatoes and coriander and season well.
Tags: chill, eggs, sweetcorn, tomato
YOU MIGHT ALSO LIKE...