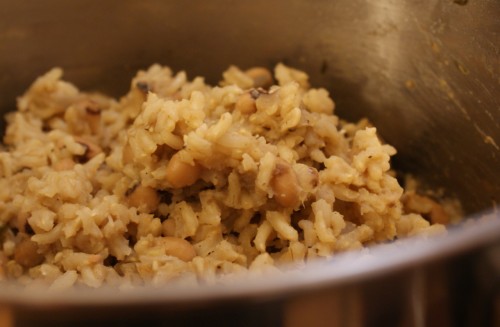 Mmmmmm rice and peas, actually one of my favourite things ever. I am salivating at the thought, my mum is the expert here, family and friends often demand a big pot of this to go with her legendary curries. As with most family recipes, this is impossible to transcribe, I've given below a basic recipe, but in reality my mum just adds a bit here and there of anything she thinks will be nice. An optional extra would be to add a whole scotch bonnet pepper to the rice as its cooking for a bit of spicy flavour, cooking it whole means you get all the flavour without too much spice, watch out if it does split though as it will be HOT!
Eat with Daal, other curries or roast chicken and macaroni cheese for a truly Caribbean feast. This version was made with brown rice simply because I forgot we'd run out of basmati, a little longer cooking time, yes. But, surprisingly delicious, the nuttiness of the brown rice works really well and makes it a lot healthier! As usual, make lots and freeze if you're so inclined.
Rice and peas is basically onions cooked with garlic, chilli and maybe some thyme, then some black eyed peas (my favourite) or gungo peas or plain old kidney beans and lots of coconut milk, you then cook your rice in this rice creamy broth until its all absorbed and you're left with sticky, aromatic, flavourful rice ready to be eaten with anything you'd eat potatoes with really…
My mum is a complete convert to cooking this in the microwave, but I find if you can turn the hob low enough, you can leave it to putter away there.
Ingredients
Serves 4
1 onion, chopped
1 garlic clove, chopped
1 red chilli, finely chopped
1 can black eyed peas, drained
½ can coconut Milk
250g basmati rice*
1 bay leaf
1 stock cube
2 sprigs thyme
Cook the onion and garlic in 2 tbsp oil for 5 or so mins until soft, add the thyme sprigs half way through.
Once cooked, add the beans and stock powder and coconut milk
Tip in your rice and ½tsp salt, stir well.
Add 250ml water and the bay leaf.
Bring to the boil and turn the heat down to the lowest setting, cover tightly and simmer for 15mins until the liquid is absorbed (add more water if necessary).
Remover from the heat and let sit for 10mins before serving.
*If using brown rice, add 375ml water and cook for 40mins.
Tags: brown rice, rice
YOU MIGHT ALSO LIKE...