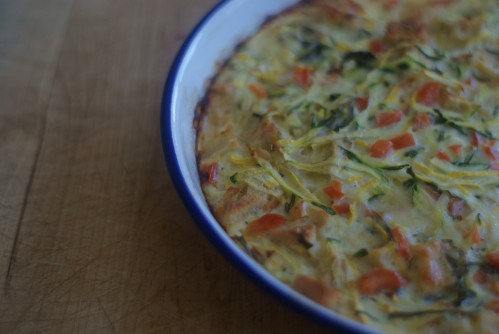 We've got a couple of courgette plants growing in pots and thanks to the crazy weather (rain, sun, rain, sun) they're doing pretty well*. So much so, that I seem to be cutting off a new courgette every day. It's still the honeymoon period, so we're enjoying courgette pasta and a little carbonara, but they're quickly piling up and I can see us running out of ideas.
Enter this courgette strata: a strata is basically cubes of bread, vegetables and cheese baked in an eggy custard, sort of like a savoury bread and butter pudding. It's really easy to make, great for feeding a crowd (I think it's going on the Breakfast Club menu) and even if you're not drowning in courgettes, a lovely summery dish. Have it for brunch with beans or a couple of sausages or for lunch with a green salad. You can also adapt it however you like, I'd add crispy chunks of bacon, spring onions or maybe a little feta.

I found the recipe on Simple Recipes, my adapted, anglicised version is below.
serves 8 (you can easily half the recipe for 4 people)
butter, for greasing
8 eggs
125g soured cream
100g grated parmesan or strong cheddar
1 tsp salt
2 courgettes, grated
4 tomatoes, chopped
small bunch basil, sliced
4 slices bread, cut into cubes
Preheat the oven to 180C and grease a large, rectangular baking dish with plenty of butter.
Beat the eggs in a bowl, then beat in the soured cream. Stir in the cheese, salt, courgettes, tomatoes, basil and bread.
Tip the mixture into the baking dish and spread it out until fairly smooth.
Bake in the oven for 30-40 minutes, or until it's puffed up and golden and egg has just set.
Our little garden – courgette plants and herbs along the left and tomatoes and onions in the raised beds
YOU MIGHT ALSO LIKE...