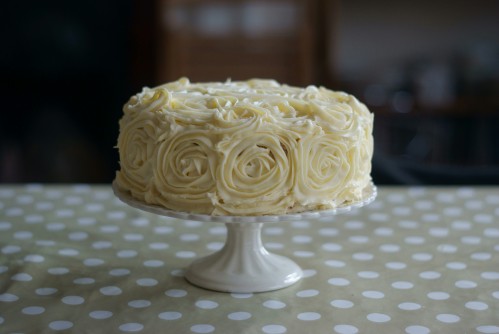 My parents love anything very sweet, in fact my dad's consumption of biscuits and sweets is legendary (I once saw him pouring mint imperials into his mouth from a huge packet). So it goes without saying that they really like white chocolate, neither's birthday passes these days without me making a batch of these brownies. I went home recently and in return for my mum's famous curry and rice and peas, I brought with me a white chocolate and hazelnut cake for dessert. Judging by how quickly it disappeared, I knew I was onto a winner – the hazelnut works perfectly with the white chocolate, so that it's not too sweet or cloying.
It also gave me a chance to try an icing technique that I've been thinking of for a while. Given it was a first try, I'm pretty pleased – how pretty do the rose swirls look? You can find out how to do them here (the key is having the right nozzle), and incidentally, they look lovely on cupcakes too.
For the cake
150g Greek-style yoghurt
125ml sunflower oil
200g sugar
1 tsp vanilla extract
3 eggs
150g self-raising flour
100g hazelnuts, ground
For the icing
125g white chocolate
200g unsalted butter, very soft
350g icing sugar
Preheat the oven to 180C. Grease and line two 20cm sandwich tins. (Note: I've started baking most of my cakes in a 7in sprinform tin, so that they end up taller. I can then cut them into 3 or 4 layers to make the cake look a bit more impressive)
Whisk the yoghurt, oil, sugar and vanilla together in a bowl, then whisk in the eggs, one at a time. Fold in the flour and hazelnuts.
Pour the mixture into the tins, spread flat and bake in the oven for 25-30 minutes.
For the icing, melt the white chocolate in the microwave and set aside to cool slightly.
Beat the butter in a bowl until really light and fluffy. Carefully stir in the icing sugar, then beat it for another five minutes. Stir in the melted white chocolate.
I filled the cake with buttercream and gave the outside a crumb coating before piping the roses all over the cake. If you'd like to ice it in a more traditional manner, this video from Dan Lepard is brilliant.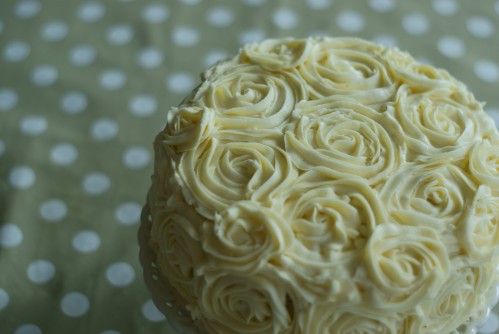 YOU MIGHT ALSO LIKE...