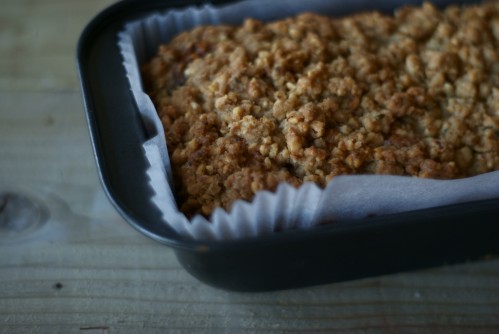 This is a very grown-up cake, but in the best possible way. It's sweetened with maple syrup and flavoured with just a little rosemary and thyme which makes it lovely and fragrant. I made this cake on Wednesday, then another on Thursday – it's that good. The streusel topping? It's basically a nutty crumble sprinkled on top of the cake – you can't go wrong really.
I've got tonnes of blueberries stashed in my freezer, so I'm been using them up with this recipe, but you could definitely use blackberries instead, preferably foraged from a hedgerow.

Adapted from 101 cookbooks
For the topping
55g flour
55g butter
¼ tsp chopped thyme
30g brown sugar
50g chopped hazelnuts or pecans
For the cake
160g flour
3 tbsp oats
½ tsp baking powder
½ tsp bicarbonate soda
pinch salt
55g butter, softened
50g sugar
80ml maple syrup
1 egg
2 tsp vanilla extract
60g yoghurt
¼ tsp chopped rosemary
¼ tsp chopped thyme
180g blueberries
Preheat the oven to 180C. Line a loaf tin with greaseproof paper.
Put all the topping ingredients into a food processor and pulse until starts to look knobbly and almost comes together as a dough.
Mix the flour, oats, baking powder, bicarbonate of soda and salt together in a bowl.
Beat the butter and sugar together in a bowl until light and fluffy; slowly beat in the maple syrup until smooth. (Don't worry if the mixture starts to curdle).
Beat in the egg, then the vanilla, yoghurt and herbs.
Fold in the flour mixture until smooth then stir in the blueberries.
Spoon the cake mixture into the loaf tin and spread smooth. Sprinkle over the topping and bake in the oven for 45-50 minutes, or until cooked through.
YOU MIGHT ALSO LIKE...