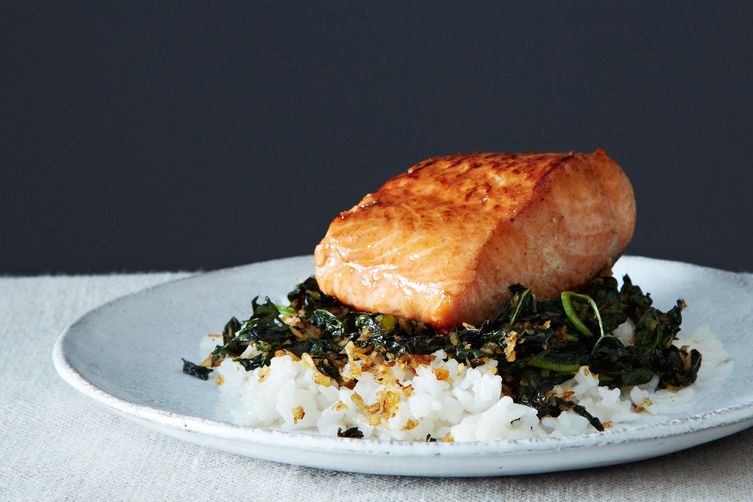 image by James Ransom courtesy of
Food 52
I've got a new recipe up on Brixton Blog– a rich, hearty, totally delicious lamb and orzo stew taken from the fabulous Kitchen & Co. It's actually perfect for weekend cooking, especially if you've got friends coming over. You need to try it! Recipe here.
Crispy Coconut Kale with Roasted Salmon and Coconut Rice
I'm in a real roasting phase at the moment, it seems all vegetable (broccoli, carrots, cauliflower) benefit from a bit of time in the oven. So this recipe was perfect (see gorgeous picture above) – roasted kale and sweet potatoes with coconut rice and spicy roasted salmon. It's healthy and really delicious – I even got envious glances at the work the next day after it had been squished into a lunch box. Recipe here.
Leek, lemon and white bean orzo
This was a quick after-work pasta number with a bit of a difference. I liked that it had beans in there to boost the protein/veg count and it took no time to make. Recipe here.
On my to-cook list
Perfect chocolate chip cookies
For more recipes ideas, head over to my Pinterest board
YOU MIGHT ALSO LIKE...