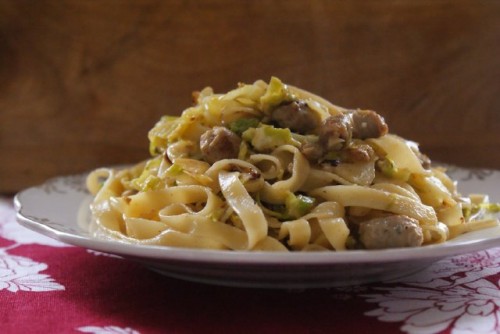 Possibly the best way to eat savoy cabbage (along with colcannon). There aren't many vegetables that don't benefit from being paired with pasta and cream or cheese. Faced with another cabbage in the veg box, I rustled this up and it's definitely one to make again.
The cabbage is definitely the star, you're not trying to mask it with all the other ingredients, simply enhance. So don't be alarmed at the amount of raw cabbage you have to fit into the frying pan, it will cook down. This is all about using what you have, any other pasta will do, try mozzarella in place of the parmesan or strong cheddar. Any other greens would also work well, kale, chard, or spinach.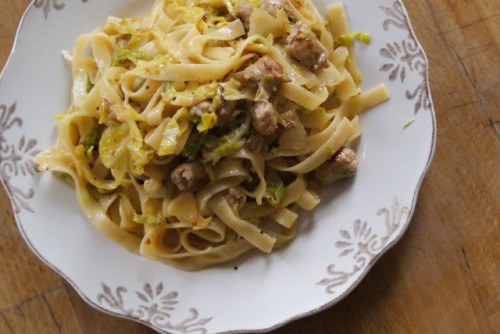 Ingredients
serves 4
400g pappardelle
1 pack sausages, approx 250g
2 fat cloves garlic, finely chopped
50g butter
1 Savoy cabbage
200g grated parmesan
3 tbsp pine nuts, toasted
Cook the pasta in plenty of boiling salted water until al dente. Drain and reserve a mugful of the cooking water.
Meanwhile, quarter the cabbage, remove the core and slice as finely as possible.
Heat a large frying pan and add a little oil, split the sausages, and add the insides to the pan, use a wooden spoon to break the meat up into chunks whilst you're frying. Once golden, add the cabbage, garlic and butter.
This will look like a huge amount of cabbage, but it will cook down. Stir as best you can and try to coat it all in the buttery juices. Continue frying and stirring for about 5mins until the cabbage is completely cooked, season well.
Tip the pasta into the pan along with the cheese and 2 tbsp cooking water. Stir the pasta into the cabbage, be patient after a minute or so, the cheese will melt and form a lovely shiny sauce that clings to the pasta, add some more pasta water if you need to.
Sprinkle over the pine nuts and serve.
YOU MIGHT ALSO LIKE...