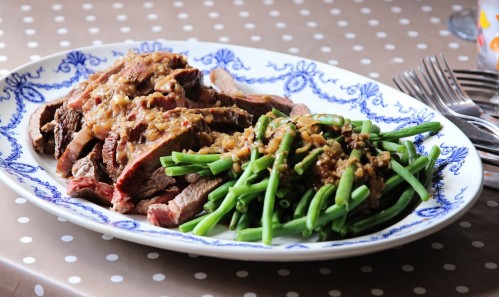 I love a good beef massaman curry – it's such a comforting bowl. While it's not exactly hard to make, it does need a good few hours for the beef to meltingly tender. So this is my quick, after-work version, I promise it can be on the table in 30 minutes! It's simple enough for after work, but also special enough to cook for friends. In fact these pictures are from when I made it  for friends for Saturday lunch.
Once you've got the basics down (this app is good and BBC Food has a good video too), I reckon a good steak is all about starting with quality ingredients. I really like the thinner 'frying' steaks you can get, that are not only cheaper  and tastier but great for a recipe like this where they're sliced up. We had ours with green beans for some crunch and lots of fluffy rice to soak up the sauce.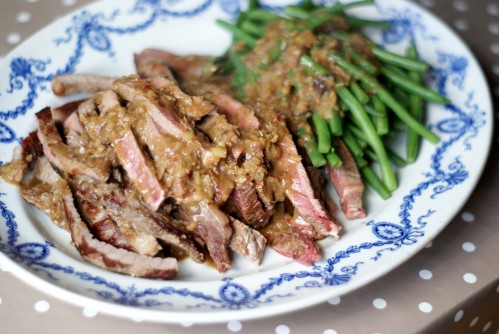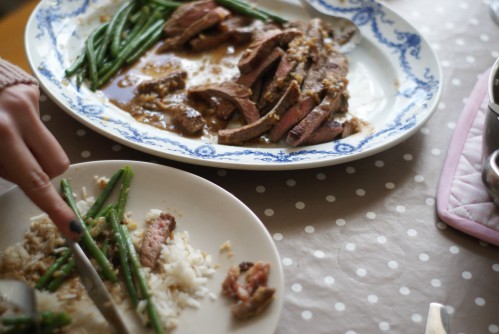 serves 4
about 300g basmati rice
1tsp dried chilli
1 onion, peeled, roughly chopped
2 lemongrass stalks
1 tsp ground coriander
1 tsp ground cumin
1 tsp ground cinnamon
1 tsp ground cardamon
½ tsp ground black pepper
thumb-sized piece ginger, sliced
1 can coconut milk
fish sauce, to taste
4 steaks (whatever's your favourite)
250g green beans
I always cook my rice by volume (try Delia's method, you'll never look back!). So measure out 250ml rice in a measuring jug and tip into a saucepan. Add 500ml boiling water and a pinch of salt. Bring to the boil, give it a quick stir then cover with a lid, turn the heat as low as possible and cook for 10 minutes.
If all the water hasn't been absorbed after 10 minutes, give it a couple more minutes. Otherwise, turn the heat off, give it a stir and cover the pan with a tea towel until ready to eat.
Meanwhile, make the curry sauce. Peel off any tough outer skin on the lemongrass and slice the bottom 5cm. Add it to a food processor with the onion, coriander, cumin, cardamom, cinnamon, pepper, ginger and splash of coconut milk. Blend until really smooth, then add the remaining coconut milk and blend until smooth again.
Preheat a large frying pan until very hot. Rub the steaks with a little oil then cook for a couple of minutes on each side, until cooked to your liking. Transfer them to a plate and cover with foil.
Add the sauce to the frying pan, bring to a simmer and cook for about 5 minutes. Season to taste with fish sauce.
Meanwhile boil the green beans for a couple of minutes until just cooked, then drain.
To serve, slice the steak and put on a plate with some rice and green beans. Drizzle over plenty of sauce.
Disclaimer: I was asked to come up with sauce as part of the The Perfect Steak Sauce Blogger Challenge. Quality Meat Scotland sent me the steaks and they were absolutely delicious!
(Top photo by Katty)
YOU MIGHT ALSO LIKE...