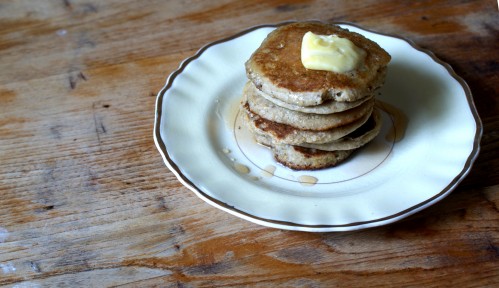 I love pancakes, big stacks of the fluffy ones with plenty of butter and maple syrup. This version has good stuff in them like oats and bananas. I'm loathe to call them 'healthy' but you know what I mean. I first started making them for the toddler, but now we love them too. They make really good snacks too if you're like me and always trying to find portable snacks for when you're out and about.

serves 4
180g oats
300ml milk (I usually use almond milk)
1½ tsp baking powder
1 large ripe, organic banana
½ tsp cinnamon
1 tbsp honey
1 tsp vanilla extract
1 egg
butter and maple syrup, to serve.
Blend the oats briefly in a food processor, then add the remaining ingredients and blend until smooth.
Heat a splash of oil and a knob of butter in a large frying pan and add two tablespoons of batter for each pancake. Cook for a couple of minutes on each side then transfer to a plate lined with kitchen paper and keep warm in a low oven while you cook the remaining pancakes.
Serve with butter and lots of maple syrup.
Tags: banana
YOU MIGHT ALSO LIKE...