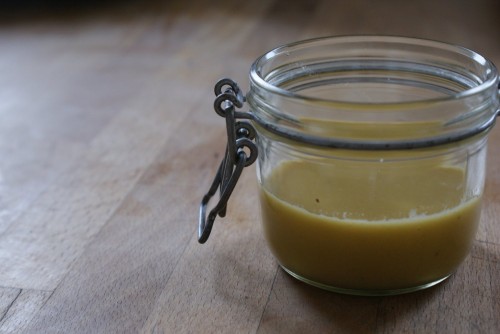 I felt I had to blog about this as its possibly one of my favourite discoveries. We get the Abel and Cole salad box, so always having lovely organic vegetables about means we have a salad with most meals. Almost any vegetable will make it in, just a little bit of slicing, shredding, chopping and dicing.

Now, here is the secret. My mustardy dressing, it livens up any salad and what's more you can make up a big batch of it and it will keep for weeks as its just mustard, vinegar and oil. I literally drizzle it on anything I can and I encourage you to do so too.
I've posted the recipe again below for convenience, a bit of whisking and you end up with a delicious, creamy emulsion. Use it on carrot salad or winter coleslaw.
Ingredients
1tsp honey
1tbsp dijon mustard
1/2tbsp english mustard
3tbsp cider vinegar
100ml olive oil
Add the vinegar to a jug and spoon in the mustards and honey, whisk until smooth. Pour in the oil judiciously, whisking lazily until emulsified, add a bit of salt and pepper and keep in a jar or a squeezy bottle like I do for easy drizzling.
Tags: dressings, Rachel's favourites, salads
YOU MIGHT ALSO LIKE...