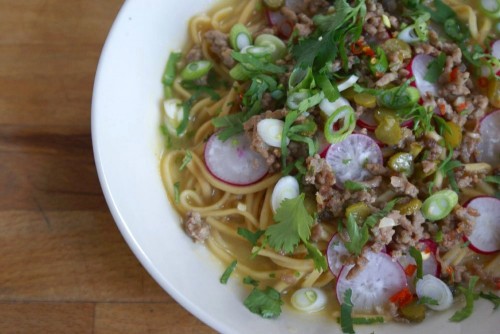 During my visit home, while rooting through my mum's cookbook collection; I found Chinese Food Made Easy
by Ching-He Huang. I knew my mum wouldn't use this book, she rarely uses a recipe for anything and so, I managed to commandeer it for myself.
I'm not a fan of the cookery shows myself, a bit too smug and she annoyingly overuses the words fragrant and delicious. But the book has some lovely photos (if not enough) and the recipes are certainly a gentle, healthy introduction to authentic Chinese cooking.

This recipe caught my eye, mostly due to the picture but also as it's unlike anything I've cooked before. Luckily, there's a chinese supermarket in Brixton, so off we went (after a delicious trip to Franco Manca) and purchased vast bottles of chinese ingredients and sauces for next to nothing.
She suggested using beef mince, I think pork is more authentic, but I actually used veggie mince which worked fine; there are so many other flavours going on that you don't notice.
The results went down well, apparently 'one of the best things I've cooked'. I have to say that this was down to me tweaking the recipe somewhat. Apparently the broth for the noodles was supposed to be a mix of tahini, sesame oil and balsamic vinegar (or Chinkiang black rice vinegar), but when I combined these in a saucepan as instructed, it looked a little like gone off milk… Out went that idea and I simply cooked the noodles in vegetable stock with a drop of sesame oil, the starch in the noodles helps to thicken the broth. I used plenty of chilli to make this a cleansing, warming soup and added some radish for crunch. You can add whatver vegetables are to hand really, add mushrooms to the mince, some beansprouts, shredded spinach or cabbage could go into the broth or matchsticked carrots.
Ingredients
Serves 4
750ml vegetable stock
2tsp sesame oil
400g noodles
1 small bunch radishes, sliced
2tbsp sunflower oil
2 cloves garlic, finely chopped
1tbsp grated ginger
1 chilli, finely chopped
250g mince
1tbsp Shaoshing rice wine or dry sherry
100g gherkins, finely chopped
To serve:
1 small bunch spring onions, finely sliced
1 small bunch coriander, chopped
1 red chilli, finely chopped
soy sauce to taste.
Heat the vegetable stock until boiling, add the sesame oil and noodles. stir to untangle and cook gently until soft. Stir in the radishes.
Meanwhile heat a wok or large frying with the oil until smoking. Add the garlic, ginger and chilli and fry for a few minutes. Add the mince and stir until well browned. Pour over the rice wine and allow it to buble away. Stir in the gherkins and take off the heat.
To serve, spoon some noodles into a bowl with a ladleful of broth, top with the mince, spring onions, coriander and as much chilli as you dare.
YOU MIGHT ALSO LIKE...