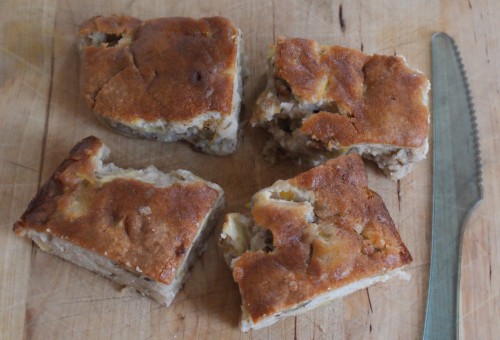 Fresh from the success of my oat and raisin cookies and still having a love affair with cinnamon scented baked goods, I came up with this cake. Really, I was also becoming accustomed to a little afternoon treat to perk me up and needed something to fill the cookie gap. While this cake is definitely going in my bag for tomorrow, I also had a sneaky piece tonight, warmed through in the oven with some ice cream. I imagine it would also be divine with a cloud of whipped cream dolloped on top.

This cake is dead easy to make, a simple batter made with oil (which incidentally makes it incredibly moist), with the apple chunks (I don't even bother to peel them) and chopped walnuts stirred in. I cooked it in a tray, but you could try it in a loaf tin or even a springform tin or try using some ground almonds instead of the walnuts.
Ingredients
125ml sunflower oil
200g caster sugar
2 eggs
225g plain flour
1tsp mixed spice
1tsp cinnamon
2tsp baking powder
250g apples (about 3 small ones), chopped into 1cm chunks
75g chopped walnuts
Whisk the sunflower oil and sugar until completely combined.
Whisk in the eggs one at a time.
Stir in the flour, baking powder and spices.
Add a little milk until the batter is of 'dropping consistency' (i.e. it drops off a spoon readily)
Stir in the apples and walnuts.
Spoon into a lined cake tin and bake at 180C for 30mins (times will depend on the type of tin used) until a skewer comes out clean.
YOU MIGHT ALSO LIKE...