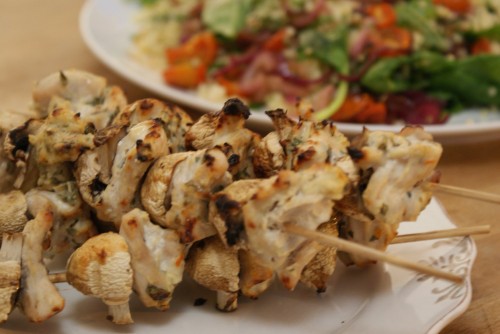 Marinaded in garlic, ginger, yoghurt and ground cumin. The kebabas are delicately spiced, nothing too overpowering, using yoghurt to tenderise and mint for freshness. We used turkey mostly because it was cheap, but of course you can use chicken – breast or thigh would work equally well. The yoghurt keeps the turkey wonderfuly moist as it has a tendency to dry out.
We eat these along with the bulgar salad below, but I would also eat them stuffed into pittas with salad and mayonnaise or yoghurt.
Ingredients
Serves 4
400g turkey breast, cut into chunks
4 tbsp Greek yogurt
handful chopped mint
1tsp ground cumin
1tsp ground coriander
2 cloves garlic, finely chopped
small piece fresh ginger, finely grated
2 garlic cloves, crushed
1 red chilli, finely chopped (optional)
Soak 12 wooden skewers in water for 30mins.
Add all the ingredients to a large bowl, mix well, cover and leave to marinade for an hour.
Thread the turkey onto the skewers
Grill for 8mins until golden brown and cooked through, turning halfway.
Tags: turkey
YOU MIGHT ALSO LIKE...