Another week, another Breakfast Club. It seems I'm getting into my stride now and this one wasn't the all-consuming week of work that was the last one. Thankfully the weather was glorious and tied in perfectly with the menu: a refreshing elderflower cocktail to start (made with our homemade elderflower cordial) and coffee and tea ice cream to round things off (with plenty of food in between).  Recipes to follow!
See more pictures and the menu below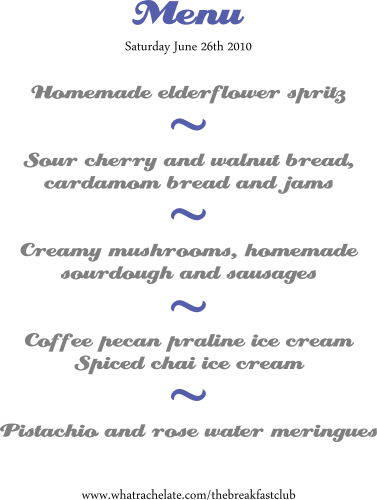 Sour cherry and walnut bread from Ottolenghi
. We served this with cardamom bread, Nutella, some leftover lime marmalade and homemade blackberry and greengage jam. People seemed to love the sour cherry and walnut bread, but my favourite was definitely the cardamom bread (from Bake
by Rachel Allen, the recipe can be fround here). Enriched with butter and egg, the texture is similar to brioche but with the spicy, heady scent of cardamom. We've been eating leftovers smothered in Nutella!

Creamy mushrooms on toast with sausages: recipe to follow.
To take home: Pistachio and rose water meringues
YOU MIGHT ALSO LIKE...