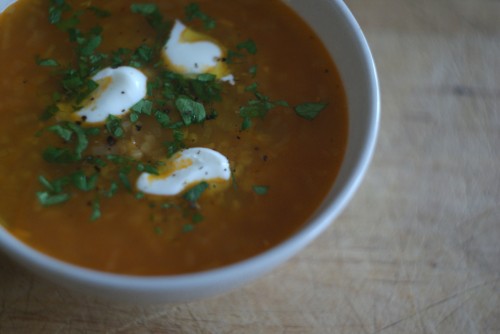 I don't know about you, but I still really struggle with thinking of something to eat every night that's not full of bacon and cheese, won't cost a fortune and I have all the ingredients. The thing is, I work in food, I spend all day looking at recipes, no wonder we're a ready meal nation…
So, when I came across this Hugh F-W recipe in his weekly Guardian column, it immediately went on my to-try list. A simple soup, filling yet healthy and I had all of the ingredients in the house. I made it for my lunch today in less than half an hour (and 20 minutes of that was waiting for the lentils to cook), but then leftovers can stay on the hob (or in the fridge) for lunchboxes and snacks later in the week. I eat a bowl by itself, but I know some people won't contemplate eating soup without some bread on the side and in that case I recommend this oat soda bread (my new favourite bread).
Here's Hugh's recipe, I adjusted it slightly and my version is below. I urge you to keep the soup chunky as the bulghur adds a lovely nuttiness. I also added several spoonfuls of yoghurt to my bowl, the tartness of the yoghurt works really well.

Serves 4
1 tbsp olive oil
knob of butter
1 onion, finely chopped
3 garlic cloves, finely chopped
1½ tsp sweet smoked paprika
large squeeze tomato purée
1 litre vegetable stock
100g red lentils
50g bulghur wheat
4 tbsp thick yoghurt
drizzle olive oil
Heat the oil and butter in a casserole. Tip in the onion and garlic and cook over a low heat for about 5 minutes.
Stir in the paprika, tomato purée and vegetable stock then add the lentils and bulghar wheat. Simmer for about 20 minutes, or until the lentils are soft.
To serve, ladle the soup into bowls, drizzle with olive oil and top with a spoonful of yoghurt.
Tags: bulghar wheat, lentils, yoghurt
YOU MIGHT ALSO LIKE...