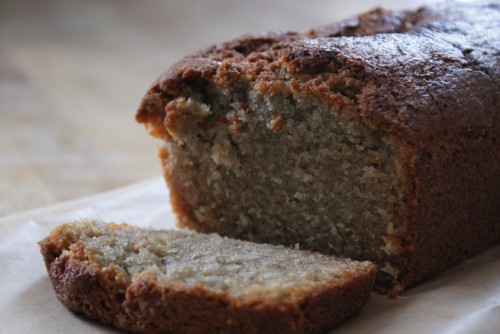 This is possibly the easiest recipe for a cake ever, and perhaps my favourite cake. The idea is you use a small carton of yoghurt to flavour the cake and then use the empty carton to measure the rest of the ingredients. Genius! no scales, no cups. Using oil and yoghurt also means that the cake in wonderfully moist and lasts for days, although what cake ever last for days?
Endlessly adaptable, you can experiment with different yoghurt flavours or maybe add a handful of chopped nuts or fruit. Also, as this recipe is so easy to make, its perfect to make with children.
Ingredients
1 x 150g pot black cherry yoghurt
1 pot (about 150ml) sunflower oil
1 tsp vanilla extract (optional)
2 pots (about 200g) caster sugar
2 pots (about 150g) self-raising flour
1 pot (about 100g) ground almnods
3 free-range eggs
Preheat the oven to 180C/Gas 4. Grease and line a loaf tin.
Whisk the yogurt, oil, vanilla, and sugar together in a bowl until smooth.
Whisk in the eggs one at a time.
Fold in the flour and ground almonds, then spoon the mixture into the loaf tin.
Bake in the oven for 25 to 30 minutes, or until the cake rises and feels springy in the centre.
YOU MIGHT ALSO LIKE...