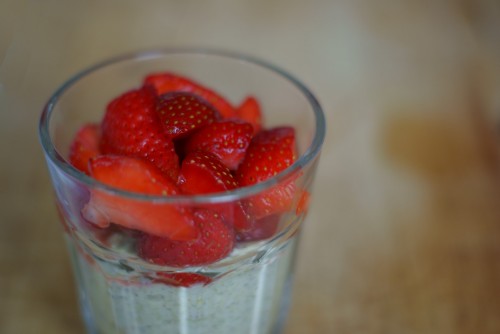 Strawberries are bang in season now and even some of the smaller supermarket varieties are still deliciously sweet. I came up with this recipe while trying to think of a light and refreshing way to start The Breakfast Club: strawberries macerated in elderflower, topped with a rich pistachio yoghurt.
By blending the pistachios, all of the oils are released and this makes the Greek yoghurt even thicker and richer, as well as a beautiful pale green colour, sort of like pistachio butter.
While this is a lovely way to start the day, it would also be an easy and smart way to round off a meal. The pistachio yoghurt can be made ahead and will keep for a few days in the fridge, while the strawberries will sit in their marinade for an hour or two.

serves 4
100g pistachio
250g Greek yoghurt
1-2 tbsp icing sugar
1 punnet strawberries
1-2 tsp elderflower cordial
sugar, to taste
Blend the pistachios to a fine powder and mix with the Greek yoghurt, adding icing sugar to taste.
Hull the strawberries, and cut any big ones in half or quarters. Sprinkle over the elderflower cordial and stir gently, add more or less elderflower cordial depending on how pronounced you want the elderflower flavour to be. Add a little caster sugar if the strawberries are a little tart. Leave to marinate for 10 minutes or up to a few hours.
Tags: pistachio, strawberry, yoghurt
YOU MIGHT ALSO LIKE...