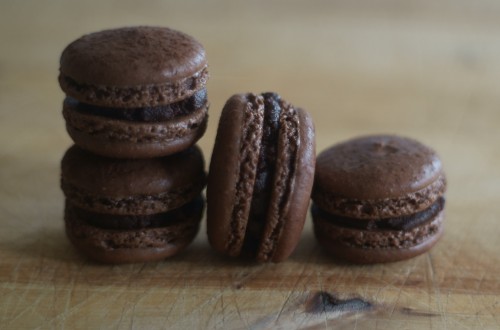 I wonder if any of you out there are as obsessed with macaroons as I am? Something seems to happen when you make your first batch of macaroons and the continual search for perfection begins – that perfectly smooth top, neat little feet and squidgy centre. I've spent hours poring over beautiful pictures (some of the best are here) and I could hold down a two hour conversation on them if you're so inclined.
I make macaroons for nearly all of my catering jobs and someone nearly always asks me if macaroons are difficult to make. Er…yes! I must have made hundreds of macaroons by now. I've thrown away more batches than I care to admit and had so many tantrums that my boyfriend scarpers whenever I make them.
So what's the point then? Well… I'm here to share what I've learnt. Below is my chocolate macaroon recipe – an amalgamation of the many recipes I've tried with lots of tips and tricks I've learnt along the way. Unfortunately, there is no quick fix for the perfect macaroon. In my experience there are a lot of steps and they all need to be done correctly. Make sure you have plenty of time and no distractions and read the recipe through before you start cooking.
Fancy some more reading?
Macaroon king, Edd Kimber's, recipe
Lots of really, really useful posts on macaroons with plenty of troubleshooting advice
Tartelette's brilliant guide to making macaroons

Chocolate macaroons
makes 30-35 macaroons
note: I make my macaroons using the Italian meringue method as I find they give more consistent results.
90g egg whites
95g icing sugar
125g ground almonds
30g cocoa powder
115g sugar
30g (2 tbsp) water
For the filling
115ml double cream
100g dark chocolate, finely chopped
25g unsalted butter
Separate and weigh the egg whites the night before, cover with cling film and set aside overnight.1
Set up a piping bag with a 1cm plain nozzle (I usually prop mine up in a glass) and line 3 baking trays with greaseproof paper (preferably the reusable sort).2
Blend the icing sugar, ground almonds and cocoa powder together until well combined. Sieve into a bowl and discard any bits that don't go through the sieve.3
Add 40g egg whites to the icing sugar mixture, but don't stir them in.
Heat the sugar and water in a saucepan until it reaches 115C.4
Meanwhile, start whisking the remaining egg whites until soft peaks form.
Slowly whisk in the sugar syrup and continue whisking until stiff peaks form.

Spoon the meringue onto the icing sugar mixture and gently fold the mixture together until thick ribbons fall of the spoon.

Spoon the macaroon mixture into the piping bag. Hold the piping bag vertically above the baking tray and gently pipe 2.5cm/1in circles, about 2cm apart. Rather than pipe in a circlular motion, you need to squeeze the mixture out then whip the nozzle away.
Pick up each tray and bang it several times on the work surface. This will help flatten out the circles and get rid of any bubbles (see pictures 4 and 5), it also helps the 'feet' form.

Leave the macaroons to dry out for at least 30 minutes (the macaroons should no longer be sticky to the touch).
Meanwhile, preheat the oven to 170C. Bake the macaroons for 12-14 minutes.5

Remove the macaroons from the oven, leave to cool for 10-15 minutes, then carefully peel them off the greaseproof paper and leave to cool completely.
Ideally the shells should be the same size, but if not pair them up with similar-sized shells.
For the filling, break the chocolate into small pieces and put it into a large bowl.  Heat the cream until just boiling, then pour it onto the chocolate. Leave to stand for a few minutes, then stir until smooth and the chocolate has melted. Add the butter and stir until smooth, then leave to cool until thickened. Spoon into a piping bag fitted with a 1cm plain nozzle.
To fill, line the macaroons shells up in two lines. Hold the piping bag vertically over each shell and pipe on a generous dollop, then cover with the other half and press down gently.
Leave in the fridge for at least 24 hours, removing two hours before you want to eat them.6
Notes
1Your macaroons will turn out better if you use 'aged' egg whites. Note that these macaroons contain uncooked egg, so they're not suitable for pregnant women. If I'm making macaroons for lots of people, I use a carton of free-range pasteurised egg whites. An egg white varies so much in size that I think it's totally worth weighing them.
2I use re-usable baking paper as I find the macaroons stick less. I've also created a template to make piping the macaroons easier. I traced 2.5cm circles onto a piece of greaseproof paper with a 2cm gap in between and slip it under the re-usable greaseproof paper.
3This helps create a smooth macaroon and makes mixing easier later.
4I don't use a sugar thermometer for this, I tend to heat the sugar for 3-4 minutes, or until the sugar has dissolved and it turns syrupy.
5Oven temperature is tricky and you need to figure out what works for you. To be honest, I think this is the trickiest part of the recipe, or rather where it's most likely to go wrong. Too hot and they crack, too cool and they're hollow inside. Cook them for too long and you lose the colour, not long enough and they stick to the paper. You get the idea…
6Everything else we've talked about here has been to do with appearance, but this is the key to a really good-tasting macaroon. Maturing for 24 hours (or up to a few days) softens the macaroon shells and give them that delicious squidgy centre.
Well done if you got this far! I'd love to hear how you get on with this recipe and how it worked for you.
YOU MIGHT ALSO LIKE...