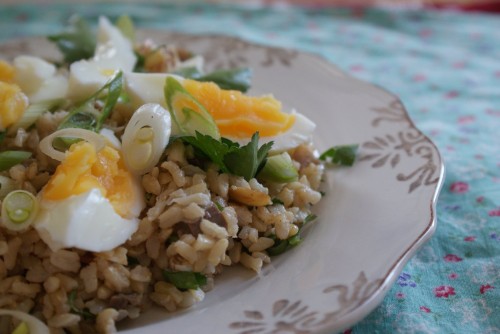 I always entertained ideas of making kedgeree, it fits with my penchant for decadent brunches. In the end we ended up making this for dinner, but there was enough left for a suitably indulgent breakfast the next day. Using smoked mackerel slightly more sustainable take on the classic smoked haddock variety. I also added some broad beans from my veg box to up the vegetable content.
Ingredients
Serves 2
1 onion
50g butter
1 red chilli, finely chopped
2tsp curry powder
1tsp cumin seeds
1 mugful rice
2 mugfuls vegetable stock
2-3 fillets smoked mackerel
2 eggs
½ bunch parsley, chopped
Fry the onion in the butter and a little oil until soft, add the spices and chilli and fry for a few minutes more. Add the rice and stir to coat in all the aromatic juices. add the juices, bring to the boil, cover and simmer for 10mins until all the liquid is absorbed. Then turn off the heat and allow to stand for 5mins, fork through, add the smoked mackerel and parsley and season to taste. You could soft boil the eggs, poach them or fry to add to each plate.
YOU MIGHT ALSO LIKE...