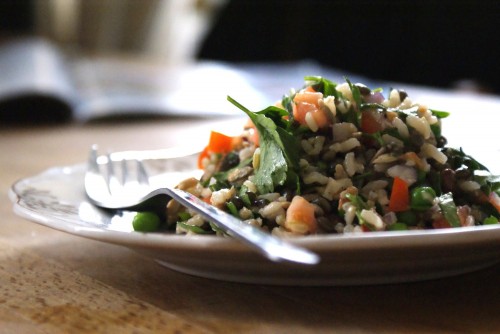 This was more Saturday morning cooking, but this time I was definitely trying to be healthy. Not in any worthy sense of the word, I just wanted to eat something that was of course tasty but felt like it was doing me good and didn't send me back to bed for a nap.
My main inspiration was this recipe for Tuktuk salad from Waitrose Food Illustrated (my new food magazine of choice). But as these things so often go, I was limited by ingredients and ended up going down my own path, albeit still a tasty one.
The base is brown rice which I always find works best in salads when its been allowed to cool first. Some lentils for texture and added health benefits although chickpeas would be good too. Plenty of red onion and garlic or try spring onions. Some toasted seeds for crunch, but toasted cashews would be equally delicious and a simple zingy salad dressing. I like to put parsley on everything if I can and the freshness works well here, but you could try coriander or mint.
The great thing about a salad like this is that it will hold up well for a few days, have it with a dollop of hummus in a pitta or with grilled fish or on its own for lunch and like me, feel very virtuous.
Ingredients
Serves 4
125g puy lentils, cooked
250g brown rice, cooked
2 red onions, finely diced
5 tomatoes, diced
200g frozen peas, defrosted
100g sunflower seeds, toasted
1 small bunch parsley, chopped
Dressing
1 ½ tsp dijon mustard
1 ½ tbsp cider vinegar
4 tbsp olive oil
This is really just an assembly job, all the work goes into preparing the ingredients.
Mix all the salad ingredients in a large bowl. Whisk the dressing and pour over. Mix well and check for seasoning.
Make sure your cooked brown rice is completely cool before assembling the salad.
Tags: lentils, peas, rice, seeds, tomato
YOU MIGHT ALSO LIKE...