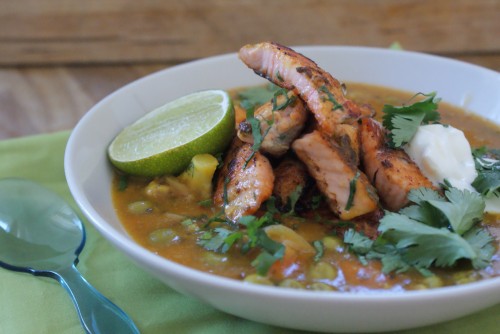 Continuing the Innocent Veg Pot theme from my previous post – here's my idea for sprucing up the Indian Daal Curry.
I took loose inspiration from this Jamie Oliver recipe that I've been eyeing for a while and made a sort of spicy seafood and vegetable soup.
Simply heat the veg pot with 1/2 cup (125ml) of vegetable stock (or coconut milk if you're feeling decadent). Meanwhile, get a piece of oily fish such as trout or salmon, skin and cut into chunks. Sprinkle with a little salt and garam masala, heat a frying pan with a little oil and fry the fish for a few mins on each side until lovely and golden, squeeze over some lime juice. Add a squeeze of lime juice to the soup as well and pour into a bowl; top with the fish, a spoonful of yoghurt, some extra sliced chilli if you like it hot and chopped coriander. Enjoy!
This is open to interpretation of course – use whatever fish you fancy or can get your hands on. Using an oily fish like trout makes this even healthier as they're packed full of omega 3's and you'll get a nice boost of calcium from the yoghurt.
YOU MIGHT ALSO LIKE...